What could pineapples, puppies, and superheroes possibly have in common with the Kia Niro PHEV? These are the wonderful things you get when you put Tessa, from MamasGeeky.com, and I in the car with a generous budget, along with instructions from Charles Phoenix himself to get to San Francisco in 24 hours. Well, we took closer to 28 hours, but the journey was riddled with greatness and no regrets.
Okay, maybe one regret… but I'll get to that later. This magical adventure was made possible by Kia and all opinions shared here are my own.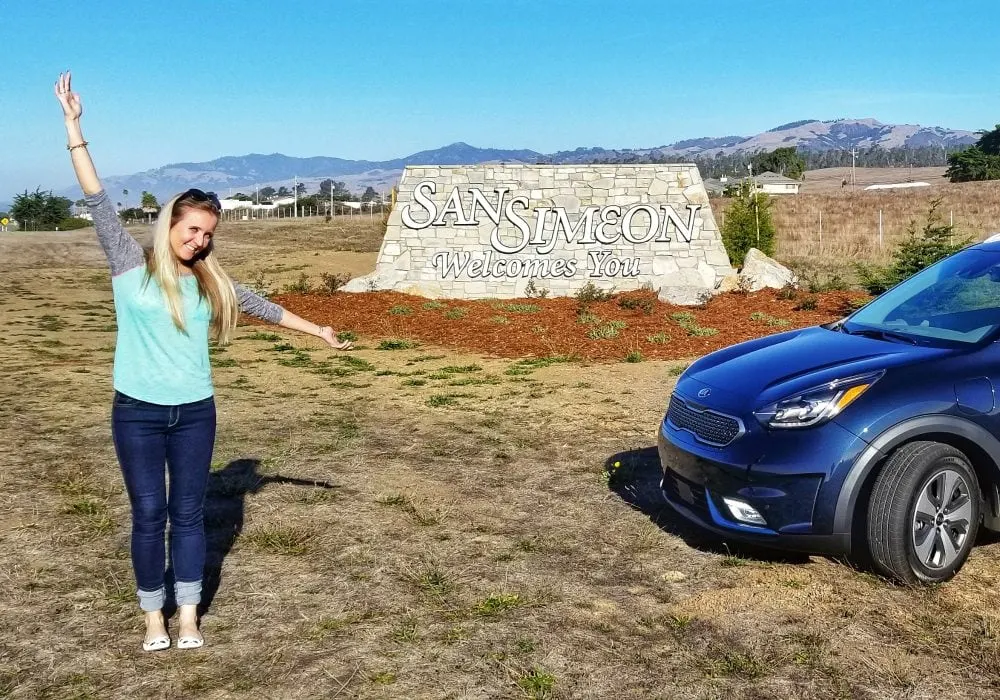 Kia Niro PHEV
First, let's address what PHEV stands for: Plug-in Hybrid Electric Vehicle. The Kia Niro PHEV is an excellent everyday driver, weekend warrior, and worthy road trip chariot. Until the world fully transitions to electric vehicles, I love the idea of having a hybrid, this vehicle gives you the best of both. You'll never be without access to some sort form of energy.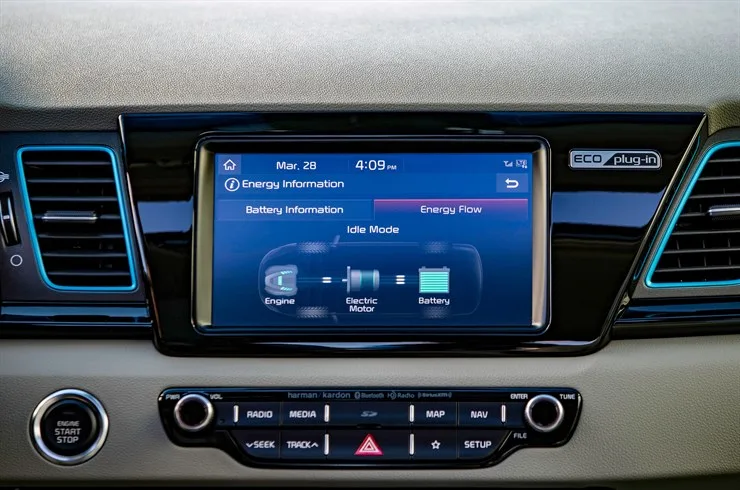 We did discover that charging stations are more abundant than ever. The Niro PHEV is fully charged in two hours, so we were able to spend our time in other important ways.
Watch this quick video to see the highlights:
Pineapples
I'm fairly obsessed with pineapples. Anyone who knows me considers this my branding. So, when Tessa and I were coming up with a theme for our road trip, pineapples were the natural fit to represent me. But impressing Charles Phoenix was also on my mind, so we took it a step further and tore a page out of Hansel and Gretel. However, instead of breadcrumbs, we decided to leave a trail of pineapples in our wake using the hashtag #PineappleTrail as our social breadcrumb.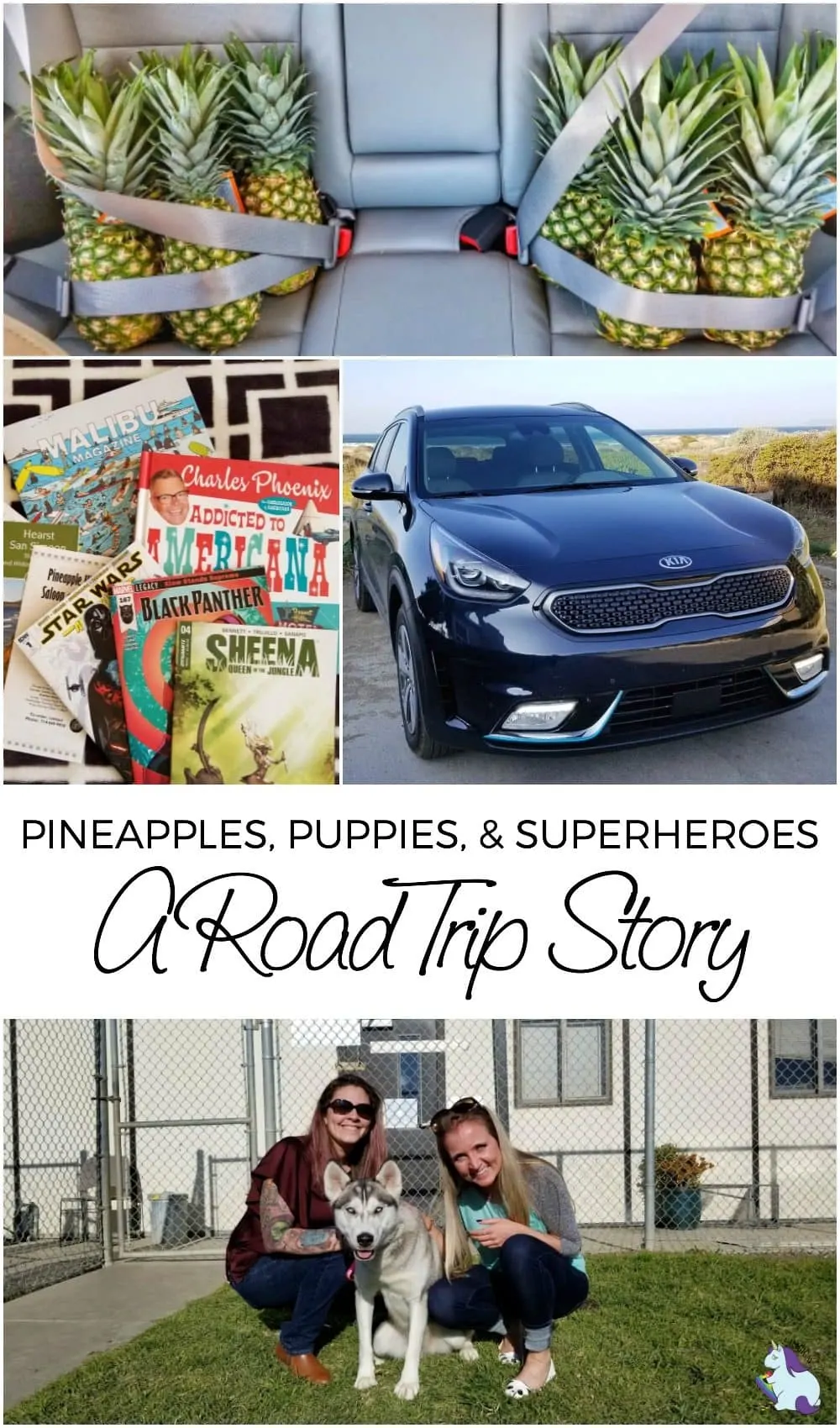 We left these sweet and prickly fruits in locations all up the California coast with inspirational notes to whoever should find and keep them. We tweeted their locations and were pleased to hear from a few recipients that they were hit by the "pineapple fairy!"
Puppies
Since fuel cost is minuscule in the Kia Niro PHEV, we had plenty of budget to play with. Plus, the whole point of using clean energy is to give back to our planet. With that spirit in our hearts, we opted to help some animals in need. The Salinas Animal Services is an overwhelmingly adorable facility. The animals are happy, healthy, and it's actually the humans that look a bit run down. They're understaffed and give everything they've got to the furry creatures in their care.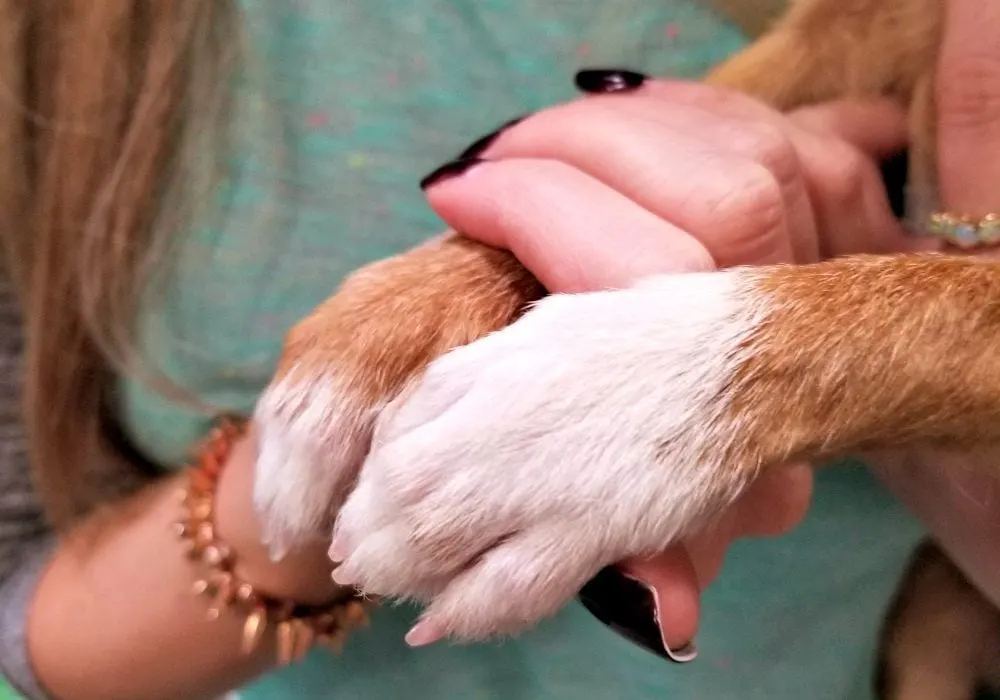 So, we handed a $500 gift card to one superhero human on site to cover the costs of a few adoptions. We nicknamed three irresistibly cute pups: Kia, Niro, and Stinger. Due to our time crunch, we couldn't spend much time playing with our canine buddies.
Tessa and I had to drag each other out of the shelter–which brings us to our only regret: We wish we would have spent hours there and taken one–or twelve–animals home.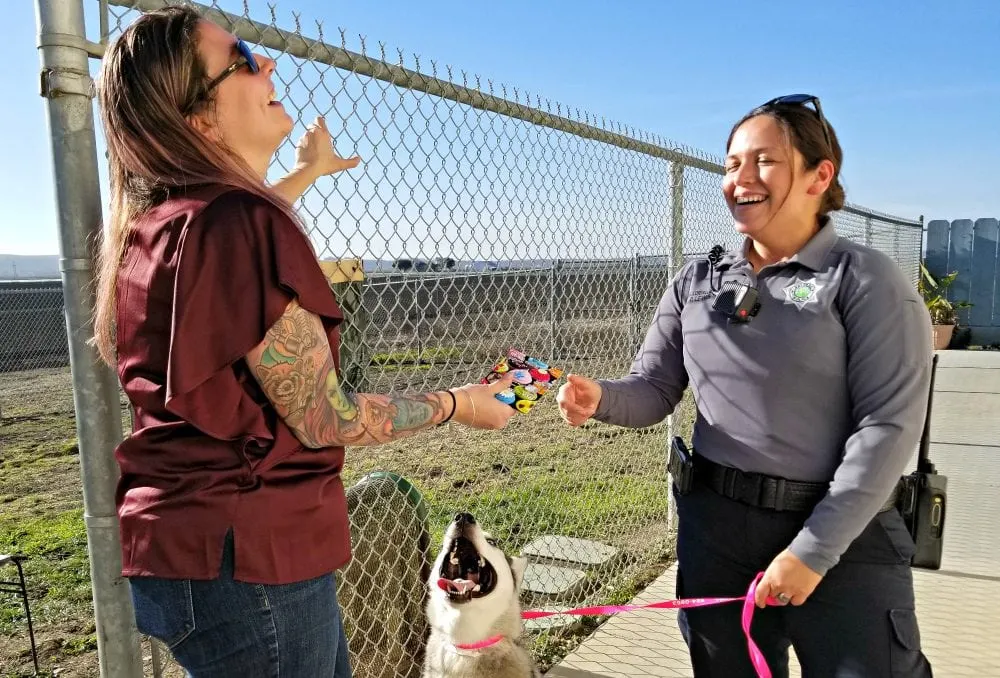 If you're in the area, please consider stopping by the Salinas Animal Services. Volunteer, donate supplies, and always adopt, don't shop!
Superheroes
Tessa and I met a couple of years ago and immediately bonded as geeks. If pineapples are my thing, then comics and all things geeky are hers–properly reflected by her new blog name.
We added a stop at Comics Toons N' Toys and picked up a few comics for the road. Superheroes come in all sorts of forms after all. The cartoons we idolize inspire heroism and have helped us become the strong women we are today.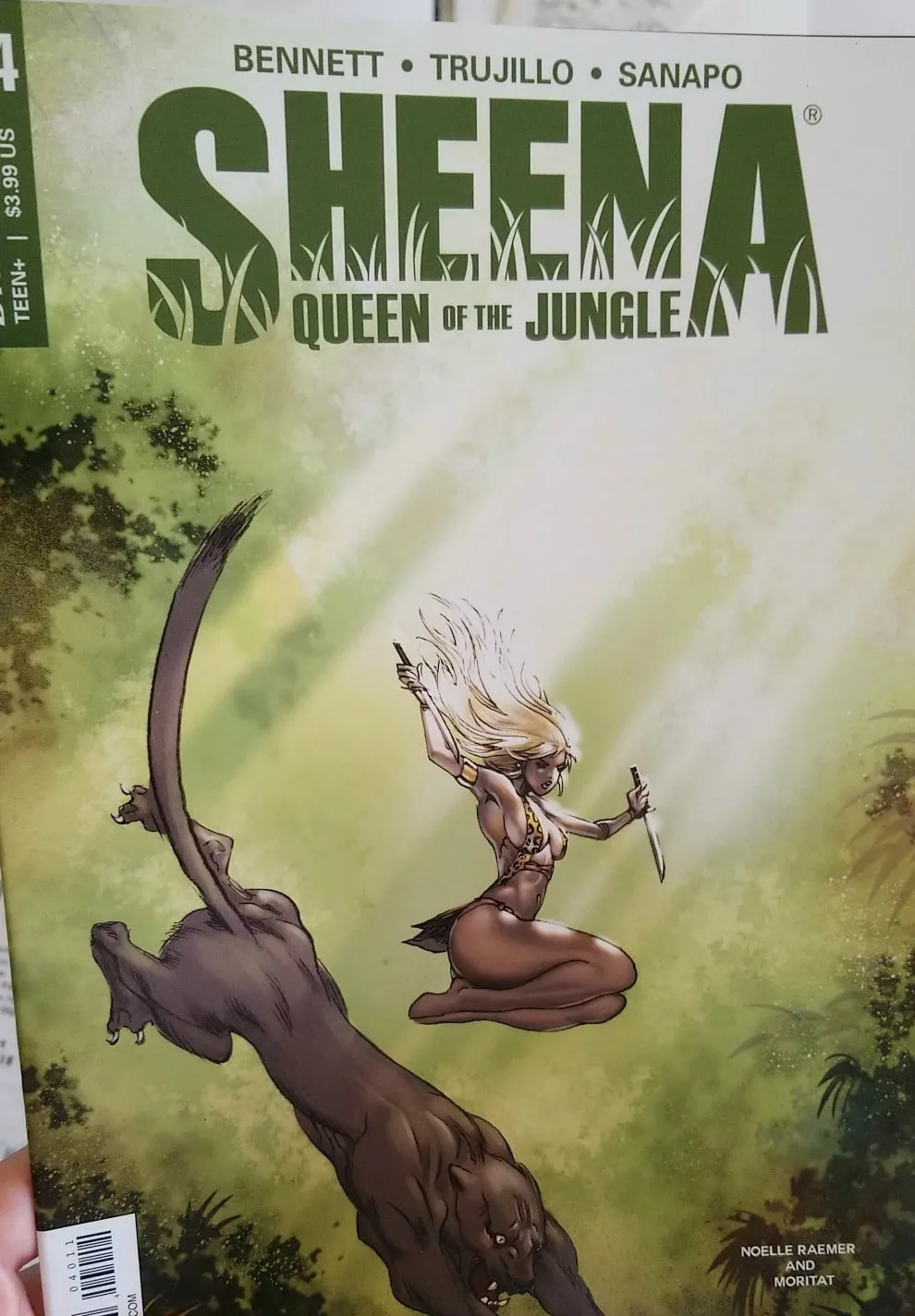 But then, we looked out the window of the Kia Niro PHEV and sitting a few feet away was a group of firemen–superheroes in real life! Tessa and I shared a glance and, without hesitating, jumped out of the car to thank them for all they do, leaving them with a pineapple and lots of smiles.
Zebras
Yeah, random, I know. While Tessa and I were running around snapping photos and staging the Niro in all sorts of scenarios, I looked to my right and saw hooved creatures in the distance. At first glance, I thought we were by a horse farm. Then I thought, no, maybe donkeys? It wasn't until I started using my Sheena powers (coincidentally, the comic I picked) that I realized there were a bunch of zebras on top of that hill! I'm fairly certain Tessa thought I was having a stroke. I was jumping around shouting "Zebras! Look, ZEBRAS!"
She strained her eyes in disbelief, and it wasn't until I Googled 'zebras in San Simeon' that she believed me. It turns out these wild zebras are members of the Hearst Castle Zoo, and we had stumbled into their back boundary. I'm standing firm that it was my Sheena-animal-intuition that brought us there.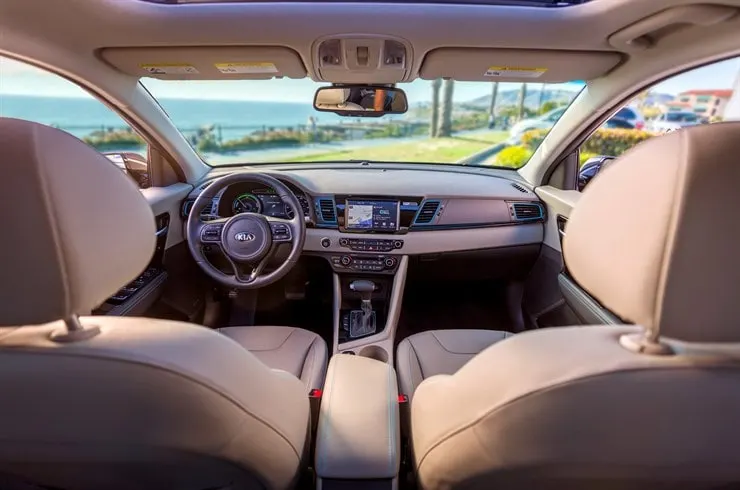 Road Tripping
When was the last time you took a road trip? Spending some time behind the wheel with friends or family is excellent for the soul. Tessa and I made memories to last a lifetime and are forever closer. Read her post where she goes into detail about how I nearly killed us. Whoops.
For your next road trip, I highly recommend the Kia Niro PHEV. It's economical, comfortable, and spacious. The smooth, quiet ride allows for peaceful introspection, or blast the Harman Kardon speakers and unleash your inner superstar.
Learn about the meaning of soul I discovered while road tripping to Vegas.