When it comes to having a puppy, this is not our first rodeo. Each puppy is different, though, and we are certainly having a lot of "firsts" with Franklin. Let me just say right away that we love him tons and have no regrets about adopting him. This post is only meant to be slightly humorous and also remind people how much work goes into having a puppy, cause I am pretty sure we forgot a little!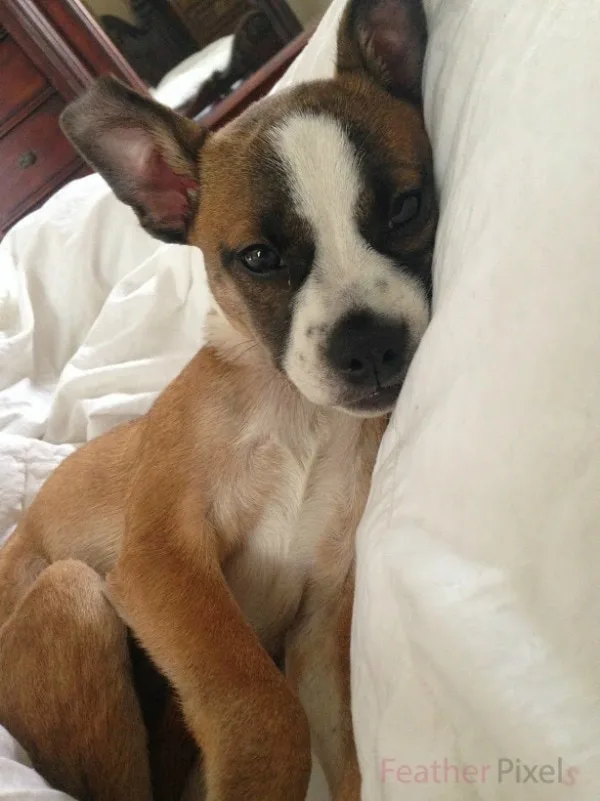 Franklin is still very young, and we are working hard on training him. Puppy accidents are inevitable, but I have never had one that's gone in some of the places that he has. Most puppies seem to pick a place to go, but Franklin likes to mix it up. Here are some of the odd places he has gone:
14 Strange Places Our Puppy Has Peed – Potty Training Reality!
Couch – I have never had a puppy pee on the couch. Right on the leather couch cushions. Gah.
Bed – Again, this is a first. Right on the bed, but thankfully, on top of the comforter and it didn't soak into the mattress.
Hilo's bowl – Passive aggressive much? Pretty sure he's super angry that we won't let him eat Hilo's food.
Welcome mat – Perhaps another message.
Dog beds – Yep, that's plural. He's peed on every dog bed in the house.
Shoe – Just Mike's one shoe so far. Mine are simply chew toys.
Outdoor furniture – Points for being outside at least?
Wood trim – Forget the floor, he likes to get it all up in the trim where it's impossible to clean. Again, we love him!
Bath mat – Absorbent. Seems legit. Could easily be mistaken for a puppy pad.
Under the end table – This was a sneaky one that we had to sniff out to find.
Crate – In the crate, on the crate, all over the crate. He has made it completely clear that crate training is not an option.
Hair dryer – I blow dry my hair in front of my mirrored closet doors. He peed on it when it was unplugged.
Makeup case – Same scenario as above. Clearly, I need to get my crap off of the floor. Message received.
The Grump – He's peed on The Grump. This was also a lesson in why bathing two dogs at once is not ideal.
This puppy potty training is definitely challenging. He's been to the vet several times for his puppy shots, and he's totally healthy. Just a tad more challenging when it comes to potty training. He is almost at the age where we can have him neutered, too. We are hoping that will help if it's a marking issue. With three male dogs in the house, no one needs that happening.
I was mentioning all this to a friend today who had been thinking about getting a puppy. Pretty sure she might go for a senior dog now. 😉 Not trying to deter anyone, it's just a reality reminder!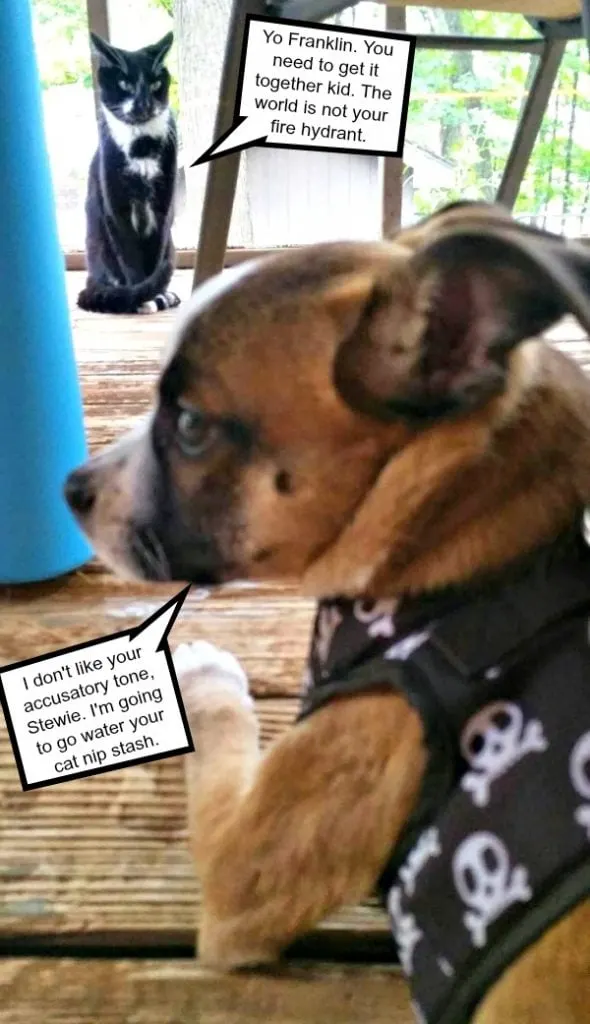 To be fair, Franklin had a rough start in life. He was found in an abandoned building at three months old, so it's understandable that he's working through some issues. We'll get there with some extra love and patience. 🙂
Have any puppy training tips for me?