If you have a Gigi's Cupcakes in your area, I highly suggest you give them a try if you haven't already. I'm so darn excited to have had the chance to tour the Chicago bakery (in Wilmette) and meet Gigi herself.
I was able to attend this event for free but all thoughts and opinions shared here are my own.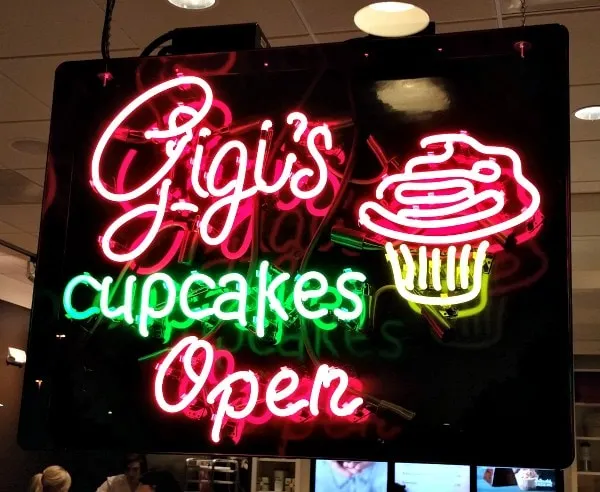 Gigi's Cupcakes Chicago
First of all, cupcakes are amazing. I mean, you get all of the wonderfulness of a whole cake to yourself. But not all cupcakes are created equal. Some are better than others… blah blah blah.
Well, once you have a cupcake from Gigi's Cupcakes there's no going back to any other. They are each a piece of perfection.
Gluten Free?
No worries. Gigi's Cupcakes has three options to choose from daily that are gluten free! My blogger friend that I attended this event with is gluten free, and she was beyond impressed with the quality and flavor.
She insisted I take a bite. WOW. I would have never known it was gf. Gigi said she took months to develop the right recipe because she wouldn't stop until it was perfect. Mission accomplished.
Blogger Event
While at the event, we tried almost every cupcake on the menu. I went in for cupcakes and came out with a muffin top. Not complaining in the least. It was amazing. Plus I was the super lucky winner of a brand new Kitchenmaid Mixer in PINK! Huge thank you to Gigi and the Yaccino family!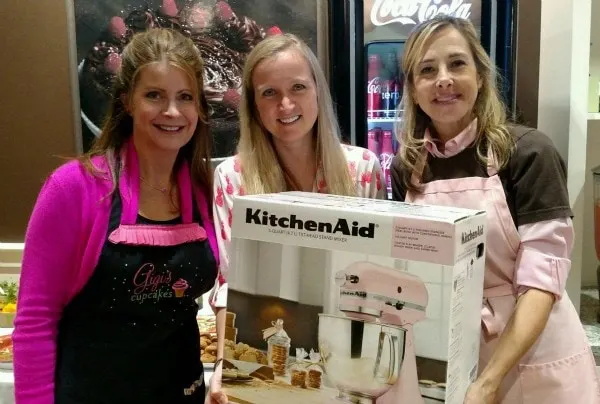 I couldn't get over how delicious and pretty each tiny cake was. You can plainly see that each one is made with care.
After meeting the local owner and her husband, you could just feel the family friendly atmosphere. Gigi said it's part of their business plan to bring a little southern hospitality into every store; and it's obvious.
We even got to try doing the Gigi Swirl. Bakers and decorators have to be "Swirl Certified" before they can work for Gigi's Cupcakes. It's not as easy as it looks!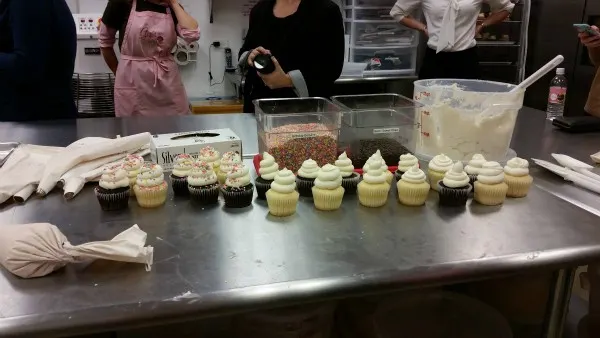 Since us bloggers had taken over the bakery, there wasn't much room for public patrons. I could see them coming in groups to come in and get cupcakes.
But rather than just turn them away, the owner was handing out gift cards and apologizing that they weren't open to the public just yet but to come back and enjoy a few free cupcakes.
This is happening just outside Chicago, people! It's adorable and I love the generosity and sincerity of this place.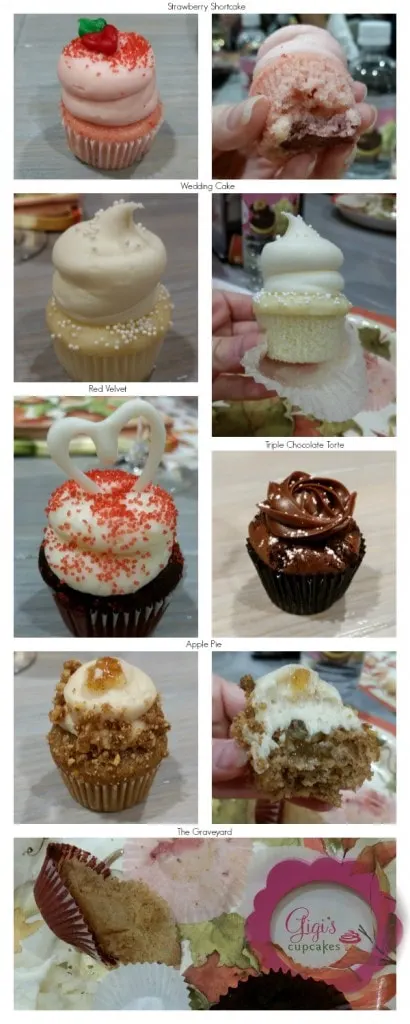 Quality
OMG the quality. Gigi is a girl after my own heart. If she's going to do something she's going to own it. Right down to the extracts, these cupcakes are made with love and the best quality ingredients on the planet.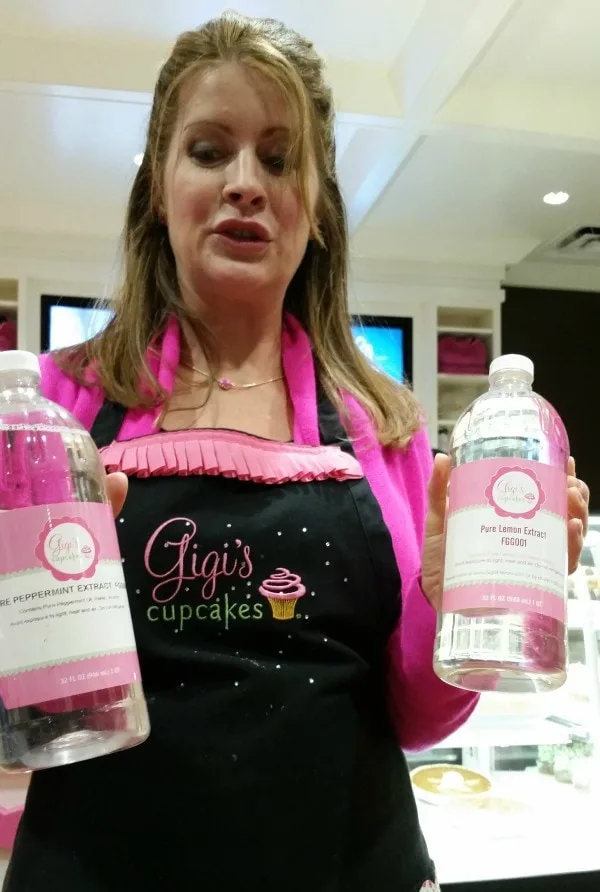 Gigi even spent months tasting vanilla extracts to find the right one. She then came up with her own and ensures that each store uses it. Hopefully someday we can find her extracts at a store for our kitchens.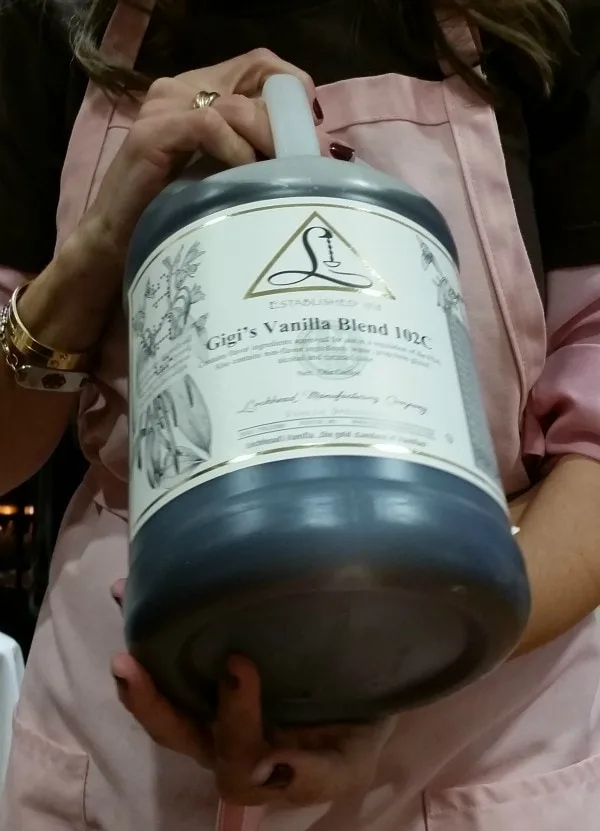 Out of all the flavors we sampled, I think I'm stuck between the Strawberry Shortcake and the Triple Chocolate Torte for favorites. But they were all superb.
For your next event, you can trust that Gigi's Cupcakes can handle whatever challenge. They'll even custom make a cake for you. You want pistachio? Done. (I asked. :))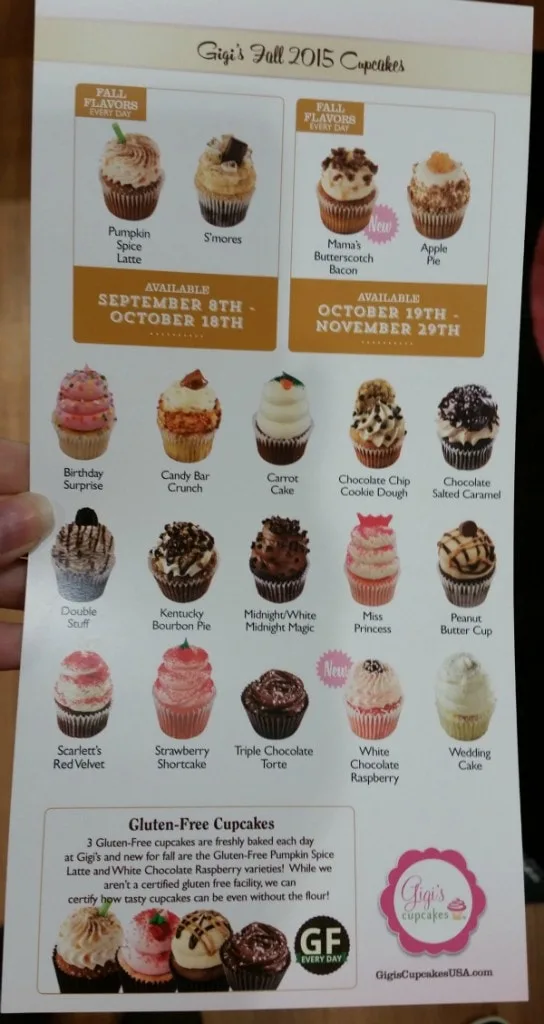 If you want cupcakes delivered, check out my review of Crumbs Bakeshop.
Do you have a Gigi's Cupcakes near you?
You can check here. What Gigi's Cupcakes flavor would you want to try first?