My kids are far from the age of needing a baby monitor… or are they? We've actually been having quite a bit of fun with the VTech Safe&Sound® DM271-110 DECT 6.0 Digital Audio Baby Monitor with Open/Closed & Motion Sensors.
Yikes that was a mouthful. But seriously, let's talk about how awesome this VTech Digital Audio baby monitor is. This blog post is brought to you by VTech and The Motherhood. All opinions are my own.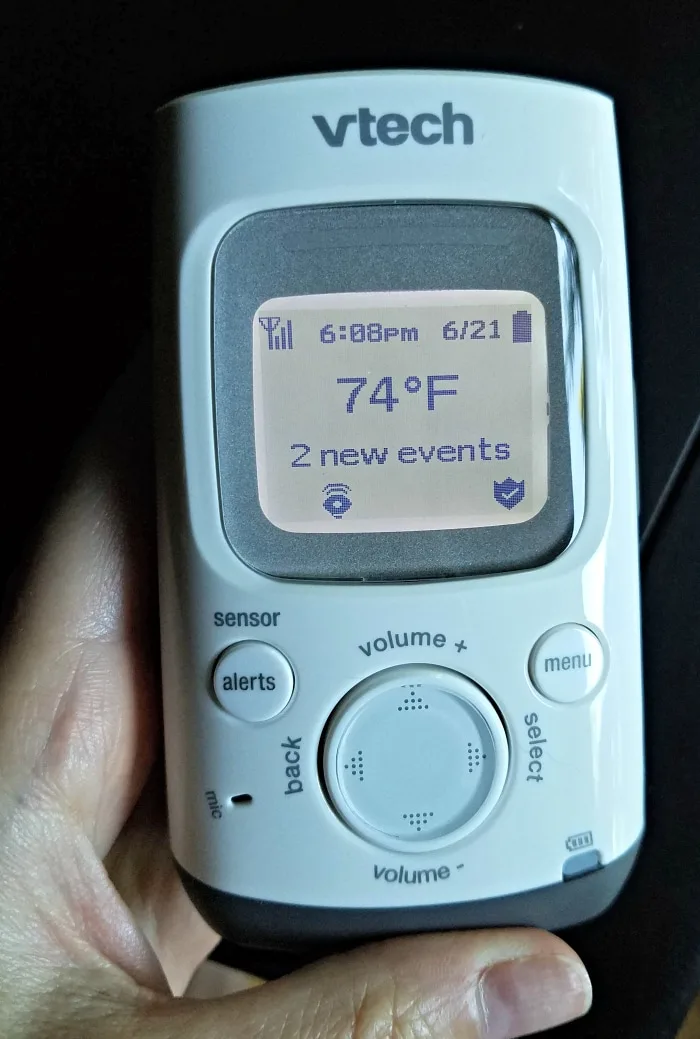 VTech Digital Audio Baby Monitor
VTech brings new and growing families a whole new way to stay connected with Safe&Sound® baby monitors. Ranging from compact audio monitors to award-winning high-tech video monitors, all of VTech's monitors share one thing–an emphasis on safety and security for parents and their children. Turns out, it's not just for babies! While it has all the great features to make parenting an infant or toddler much easier, it's also great for older kids and even the cat. As you can see in the photo above, the parent unit even let's you know the temperature in the room.
Since we have an 11 year old, a 14 year old and a mischievous feline in the house, we have found plenty of uses for the VTech Digital Audio baby monitor. We've put the open/closed sensor on the fridge to keep track of how often the kids are getting milk–because good grief, we go through like 8 gallons a week. We put the motion sensor in a room the kids weren't supposed to go into while we prepared for a surprise party. But by far the coolest use yet was putting the open/closed sensor on the cat door to the screened-in porch.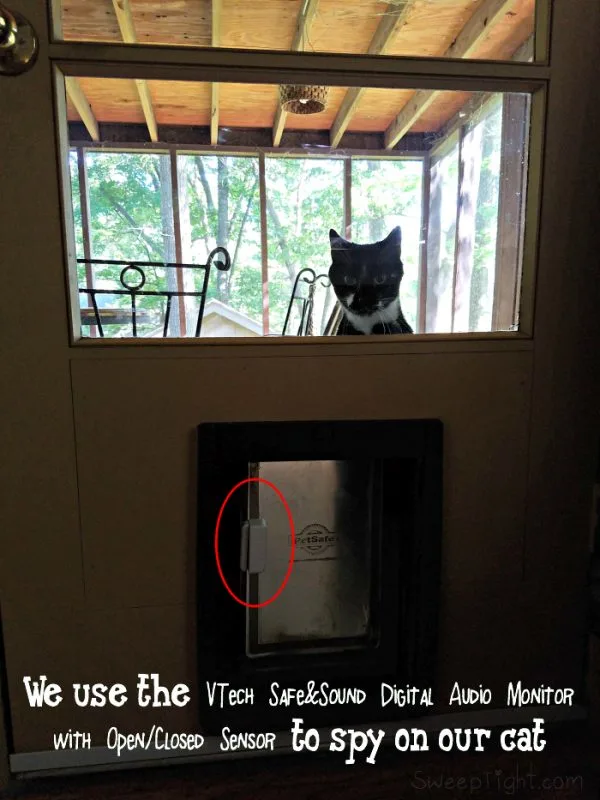 Stewie has pretty much all day access to the back porch. But lately we noticed the screens were getting damaged. They were bowing inward as if something was pushing from the outside. We make sure to lock up at night so Stewie doesn't get into some sort of trouble while we're sleeping. But we really wanted to investigate what could possibly be doing this. I now keep the parent unit with me during the day and it alerts me any time Stewie exits.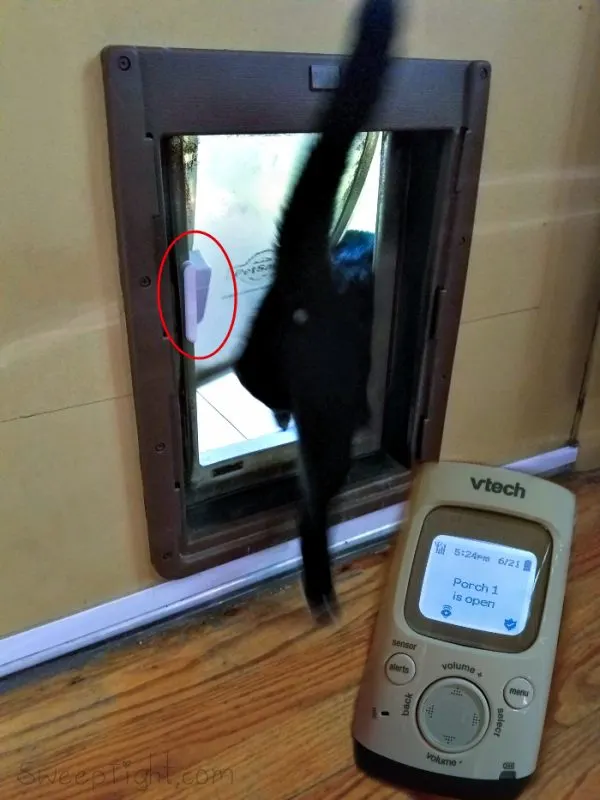 Typically he's out there sunbathing and acting out his killer panther instincts on some poor unsuspecting ant that managed to find a way into this otherwise bug-free zone.
However, after monitoring his activity out there we finally caught the criminal in the act. It was a mamma deer and her baby!
Our rotten little cat was taunting the mom through the screen and she head butt it so hard it nearly tore all the way through. Stewie flew so fast through that cat door his paws didn't even touch until he was far inside. He looked like a furry bullet.
You'd think he learned his lesson. Well, they say curiosity killed the cat. I get it now. He's just itching to cause trouble. But thanks to the VTech Safe and Sound Digital Audio Baby Monitor and all the gadgets that come with it, we're able to keep a close eye on his "outdoor" activities. We don't want to lock him in the house completely because he really enjoys his time in this screened-in area. VTech understands that we all have unique needs as parents at all stages. VTech's Safe&Sound audio monitors come equipped with features that give us peace of mind we deserve anytime, anywhere.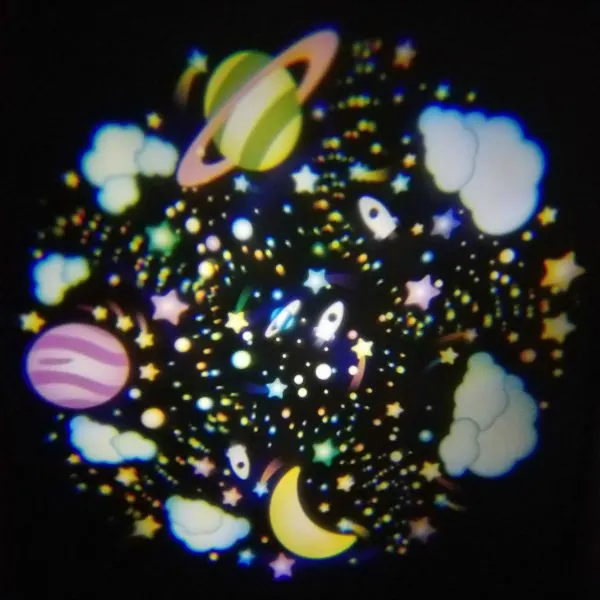 We all love the cute night light feature too. It projects several space images onto the ceiling. It's surprisingly good at getting all of us to fall asleep. We've actually started fighting over who gets to have it at night.
The uses for these versatile gadgets are really endless. With the monitor's ULE (Ultra Low Energy) smart sensors, parents can easily go about their day while also monitoring "off-limit" areas such as cabinets, doors and other open spaces, receiving notifications directly to the parent unit.
Check out the full list of features:
Open/closed and motion sensors
Glow-on-ceiling night light with lullaby
1,000 feet of range
Back-lit display on the parent unit
Talk-back intercom
Vibrating sound-alert on the parent unit
Temperature sensor
Adjustable projection angle
DECT 6.0 digital technology
ULE (Ultra Low Energy) technology
Rechargeable battery with low-battery alert on the parent unit
5-level sound indicator
Secure audio transmission
Belt clip
Volume control
Battery type – 2.4V 750mAh Ni-MH
How would you use the VTech Digital Audio Baby Monitor to make your life easier?