This Christmas Gift Ideas to get a blogger post is a Fashionista Event. I was provided a promotional item by Coupons.com to inform you of their crazy insane Black Friday Sales, their top 10 gifts giveaway and our $500 giveaway.
If you are looking for a gift idea for a blogger in your life, I have 10 of them for you. I was going to post about my holiday shopping to-do list, but that would possibly give away surprises to my people. Instead I will share with you some of the things that I would love, or find very useful as a blogger.
10 Christmas Gift Ideas to Get a Blogger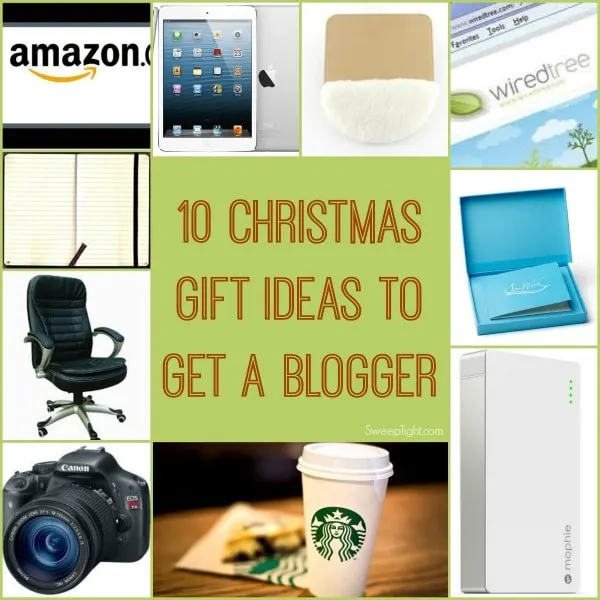 1.) Portable charging device – Us bloggers are on our phones, tablets, and other electronic devices non-stop. A portable charger is amazing to have while on-the-go. I have a Mophie and it's been amazing. I have even helped other people charge their devices with it while out.
2.) Massage gift certificates – Sitting at the computer for countless hours does a number on the back and shoulders. Give us a reason to pamper ourselves with a massage!
3.) Coffee gift cards – I have yet to meet a blogger that doesn't drink coffee. I assure you I would put a Starbucks gift card to very good use.
4.) DSLR camera – If your blogger has made the super "nice list", consider a DSLR camera. It's really a priceless investment when it comes to the quality pictures they can take for their blog.
5.) Amazon gift cards – Really, who can't find something at Amazon? This would be great for anything, really, but especially informative how-to books and other tools to help grow their blog.
6.) Mouse pad with a wrist rest – My fuzzy mouse pad has been life changing for me. If you are a blogger, you get it.
7.) Tablets – iPad, iPod, Kindle Fire… I am willing to bet any type of gadget or electronic device would thrill any blogger.
8.) A nice notebook – The kind with real paper. Sometimes you need to just jot down thoughts and ideas and it's nice to have a notebook on hand to do so.
9.) Web hosting – If you know where they host their blog and can possibly pay something towards their monthly fee, that would be quite welcome. I know I would appreciate the heck out of that!
10.) Office chair – A nice, comfy office chair that provides support. My husband got me a great one last year and it was one of the best gifts ever!
No matter who is on your list, definitely take advantage of Black Friday Sales. Coupons.com has an entire section devoted to bringing you the most valuable Black Friday deals.