Do you know someone who is always cold? As a person who starts turning blue when temps drop below 60 degrees F, I thought I could offer some gift suggestions in this area. These gift ideas for cold people are perfect for any occasion, especially the holiday season.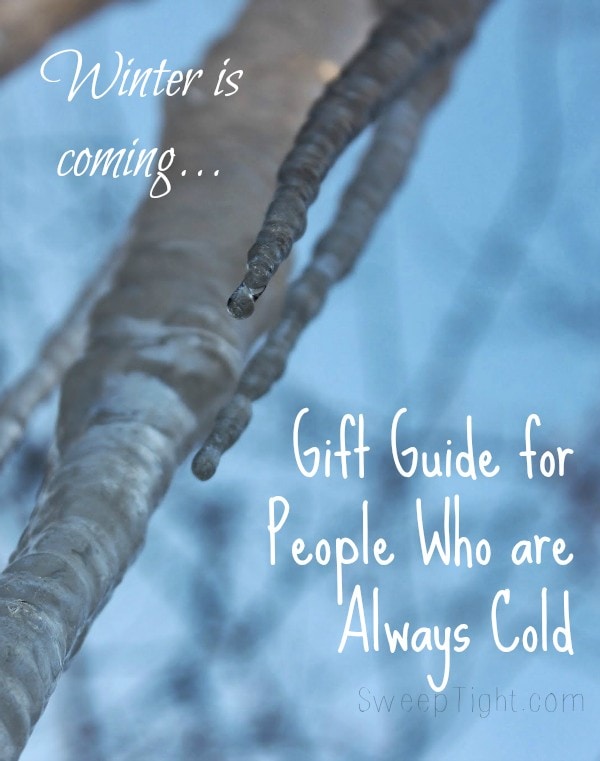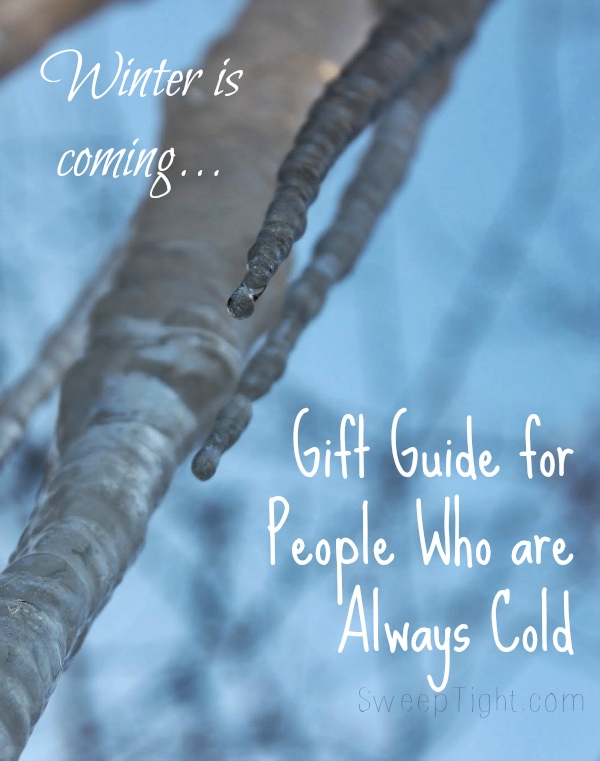 Gift Ideas for Cold People
For Hands
Rechargeable heated gloves aren't just for winter sports enthusiasts. I'm just sitting here in the office and wishing I had a pair to warm up my cold, ancient looking digits. I don't know if it's poor circulation or what, but my hands are always cold.
I would wear heated gloves for just about anything to do with leaving the house during the winter. Shoveling, sledding, walking to the end of the driveway to get the mail… who am I kidding, I'll probably wear these to read a book while under my heated blanket. 🙂
I wouldn't go submerging any of these heated gloves in water, but I imagine they'd probably withstand a good snowball fight.

If you don't always have cold hands or can't justify buying heated gloves, I'm confident everyone hates getting into the car and holding on to a frigid steering wheel. The answer: a heated steering wheel cover. (If you don't have a brand new Kia with this feature included.) Even just a fuzzy cover would cut the chill.
For Feet
Heated slippers come in a plethora of shapes and styles. Some are battery operated while others are rechargeable via USB. Whatever your preference this is the chance to have or give the gift of the ultimate cozy feet. I know heated Narwhal slippers are now at the top of my wish list.
Just a heads up though, most of these that are charged via USB require a laptop or desktop USB port or a 5V USB power source. So if you're buying for someone without a computer, an inexpensive wall adapter would go great with this gift.
Shoulders
If I'm cold, my shoulders tense up like crazy. It can cause a legitimate migraine from hell. A heated shoulder wrap is a great way to distribute heat through the muscles in the back to the whole body. Or, if that wretched migraine is already brewing, applying heat can actually reverse it.
Full Body
Perhaps you're ready to just plunge your entire body into warmth. For people who are always cold, this is always a fantasy. Heated blankets are amazing if you don't have to do anything productive besides read books or watch TV all day. (Sign me up for this please.)
For the brave souls that have to function during the cold weather–even if it's just sitting at your desk with a thermostat set at 68 <brrrr>–there are warm solutions. A heated fan that bathes your soul in warm air… I'd be lying if I said I've never crouched my whole body beneath a hand dryer to shake a chill.
I'd also be lying if I said I didn't regularly rock a onesie under my clothes when it's cold outside. Don't judge me. I will shamelessly do anything to stay warm.

Who do you know that is always cold?