My kids–my teenage son especially–is suddenly obsessed with granola. He eats it as cereal, puts it in his yogurt, and keeps it in little containers for emergency snacks.
After going through about 100 bags that cost $5-$8 each, I realized we need an easy homemade granola recipe I can make in bulk. I consulted my brilliant Aunt Carla who is the best baker and cook in the family.
She gave me her mother's recipe from 1969! Talk about tried and true. This is the BEST recipe for granola.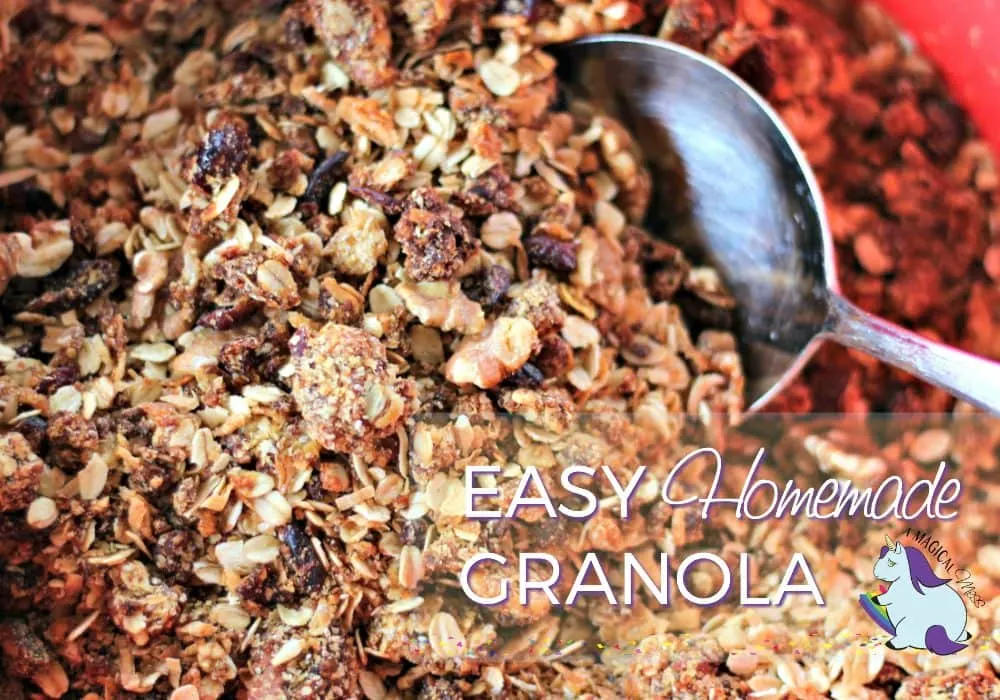 Easy Homemade Granola Recipe
This easy homemade granola recipe can be tweaked to your preferences. Add in chocolate candies and some more dried fruit, and you've got the perfect trail mix!
Portion it into baggies for hikes or other family adventures where snacks are needed. The crunchy goodness will most definitely be added to our list of road trip essentials.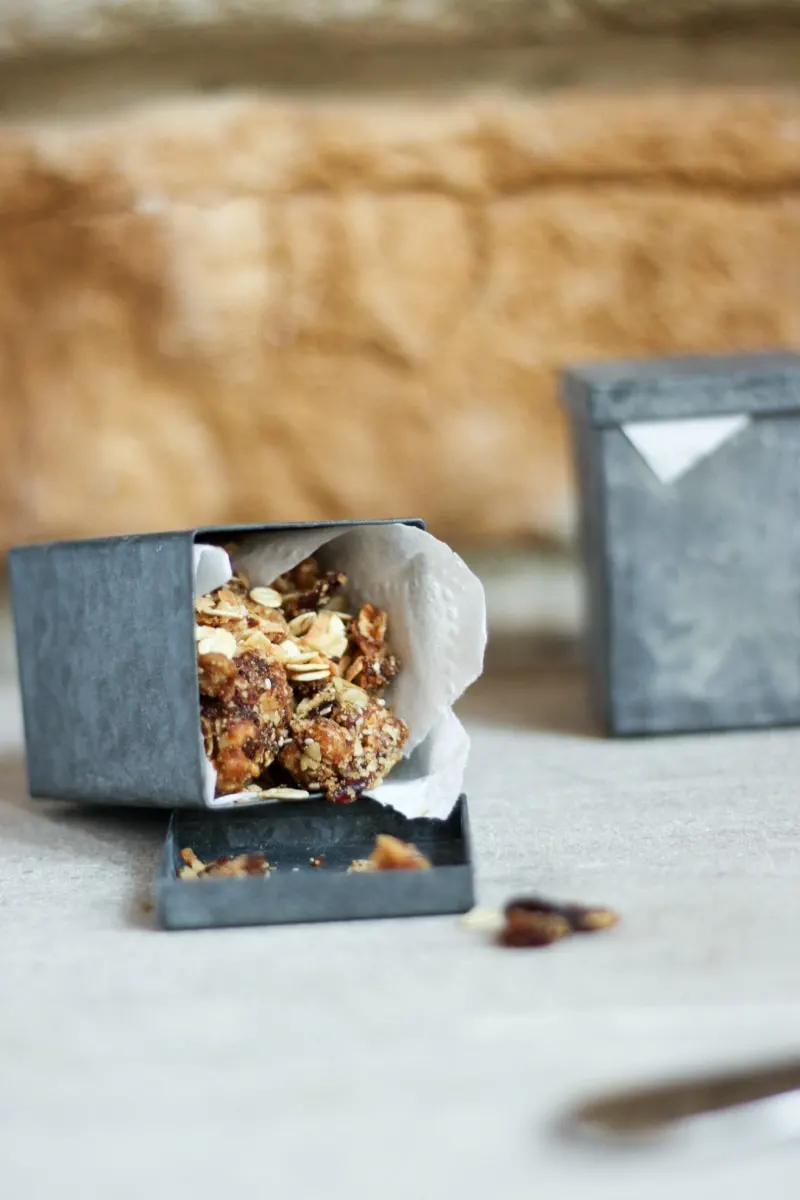 How to Make your Own Granola Recipe
Ingredients
8 cups old fashioned oats (NOT quick cook)
4 cups wheat germ
2 tbsp cinnamon
1 14 oz package coconut
1 12 oz package Craisins
Nuts (1 small package pecans + 1 package chopped walnuts) or whatever your preference but in total it's about 16 oz of nuts
1 tbsp salt
2 tbsp powdered milk
1 cup honey
1 cup sunflower oil
parchment paper
Instructions
Preheat oven to 275º.
In a large mixing bowl, combine oats, wheat germ, cinnamon, coconut, Craisins, nuts, and salt.
In a medium nonstick saucepan, combine the milk, honey, oil and heat until warm.
Once warmed, pour over oat/nut mixture and stir until evenly mixed.
Pour the mixture onto cookie sheets lined with parchment paper and bake at 275º for 30 minutes stirring the granola half way through baking.
Store in a covered container or portion into fun little boxes and give as gifts.
These adorable little tin favor boxes would make the perfect gift for dads, husbands, and anyone who works in the construction field. Our dad (and uncles and grandpa) work with sheet metal every day, so I think we'll drop off a bunch of these as cute–but manly–Valentine's Day gift boxes.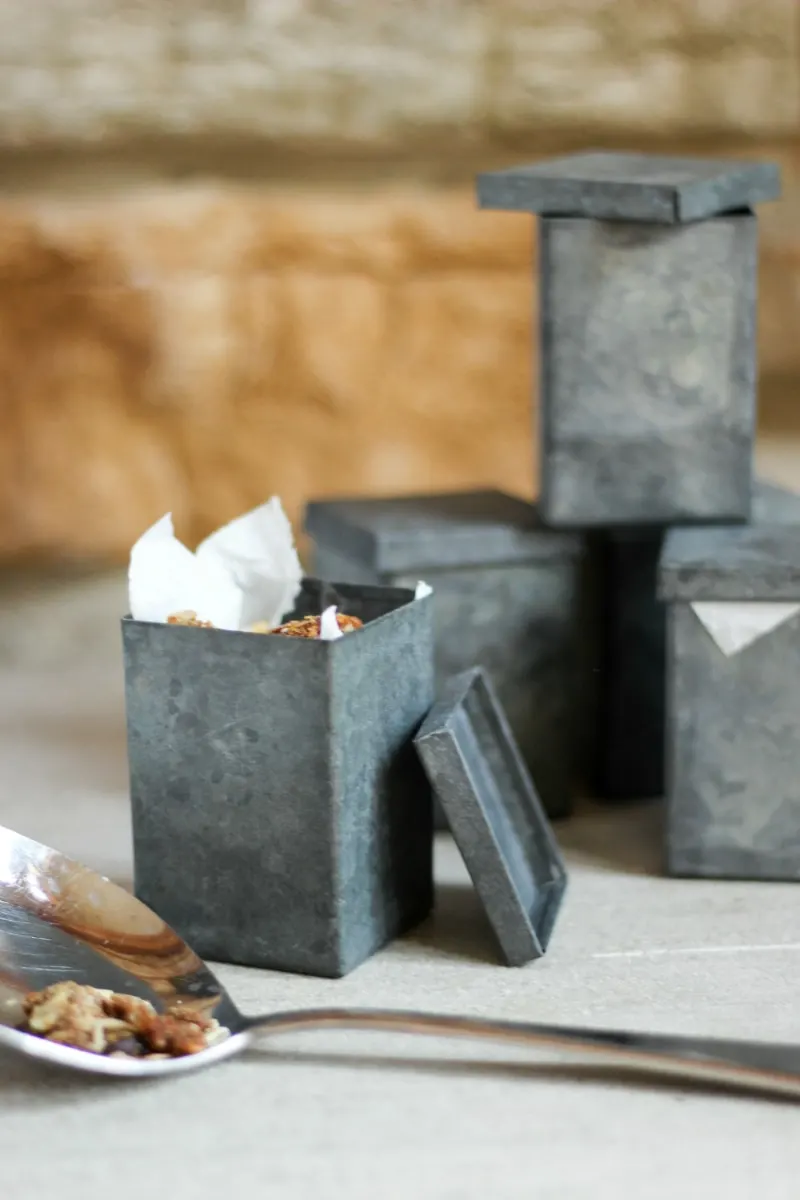 Use your granola for parfaits, cereal, put it in yogurt, ice cream, or just eat it by the handfuls! I love it with fresh berries too.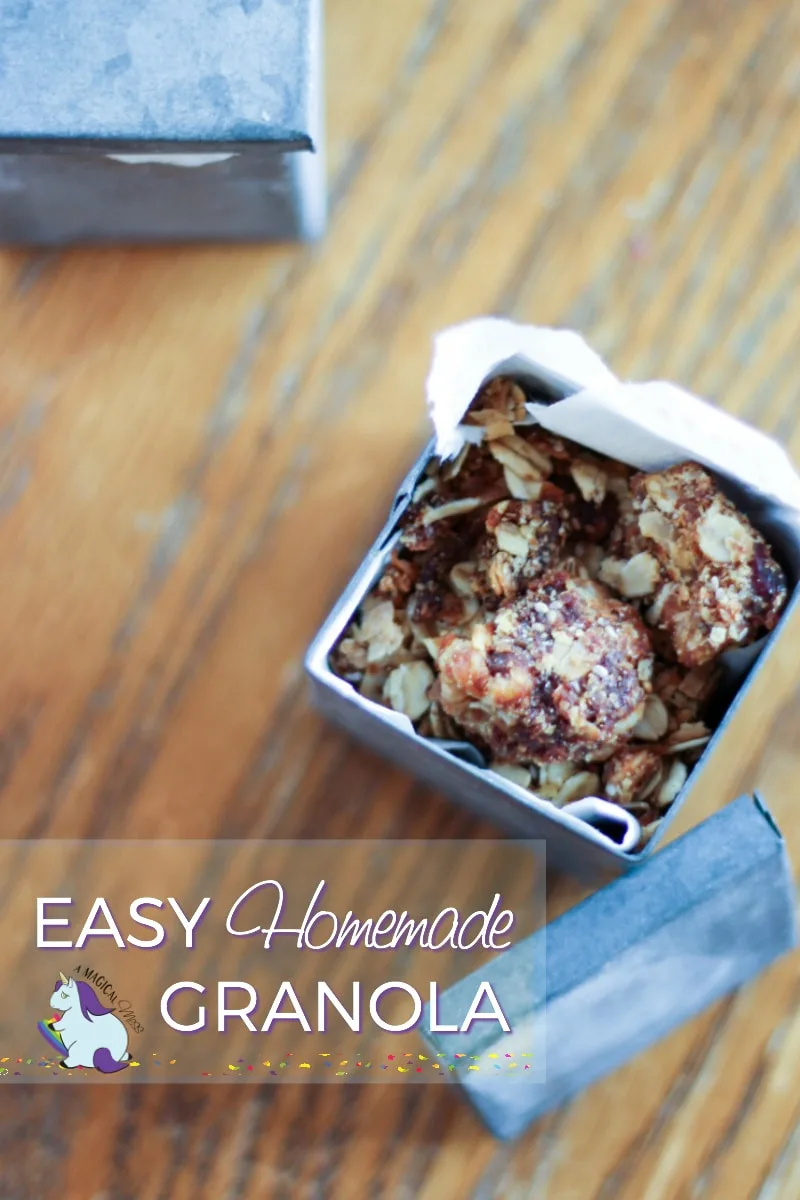 As you can see this is a recipe that's been passed along and perfected by the talented women in my Aunt Carla's family. As much as I don't like to mess with perfection, there are many other items one could toss into this granola recipe.
Organic chia seeds and unsalted, shelled sunflower seeds are a few we plan to try next time. It's a recipe to have fun with and mix up to make your own.
The next time you need a nutrient dense snack idea, try this granola recipe homemade and modify it to your liking.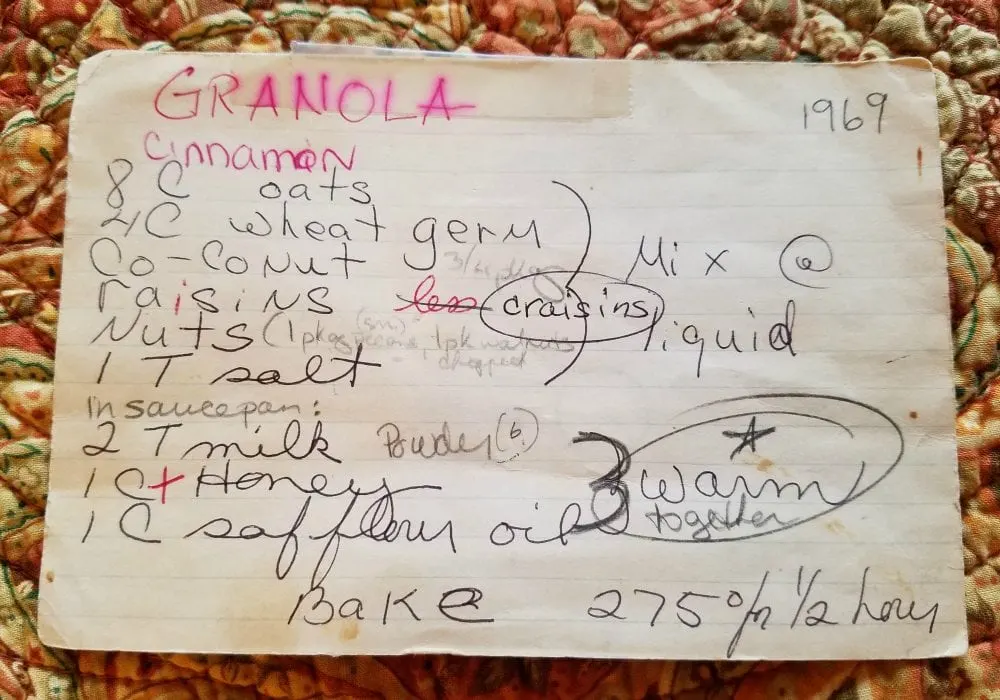 Want your granola in bar form? Try these homemade cherry chocolate chip granola bars!
What would you eat with this easy homemade granola recipe?