What do all these goodies I've unboxed have in common? My thoughts are that they all make great gift ideas for women who do it all. This post is sponsored by BabbleBoxx.com.
Most women I know are busier than ever wearing multiple hats and juggling impossible to-do lists.
It never ceases to amaze me when I meet a lady who seems to have all her bases covered. Of course, we never see the full picture. The perfectly manicured woman you see may have a mountain of laundry at home that's taking up half a room. However, at this point of my adulthood, I'm impressed by any indicator of a person achieving even a hint of balance.
If you're shopping for a woman who does any or all of these activities, here are some cool products I now know about that might make a good fit.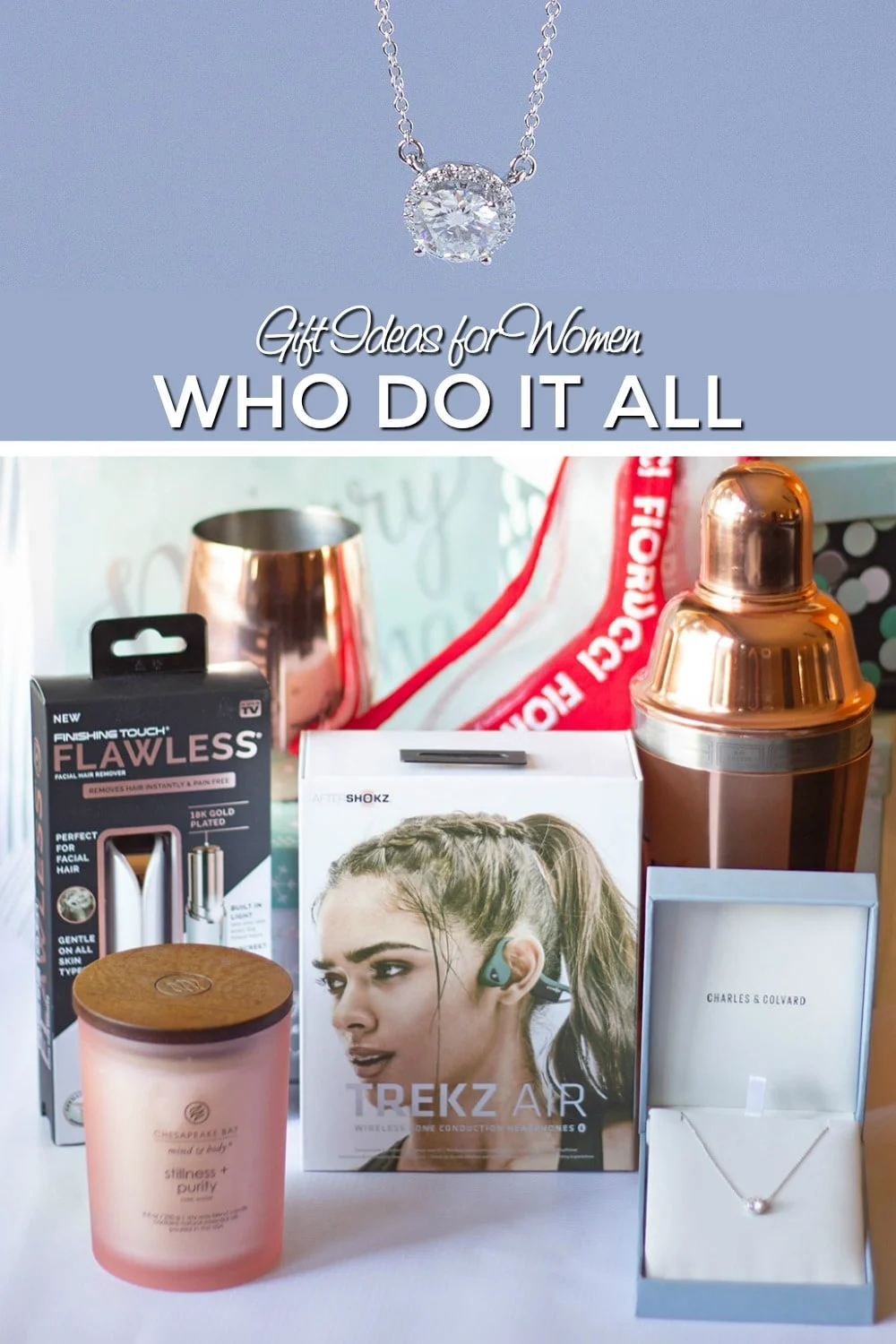 Gift Ideas for Women Who Run the Show
FITNESS
If you know a Wonder Woman who manages to squeeze fitness into her busy days, she most definitely deserves the best headphones.
AfterShokz Trekz Air headphones are designed to fit more securely and comfortably. The new design is inspired by the demands of elite athletes, making them extra perfect for multitasking moms.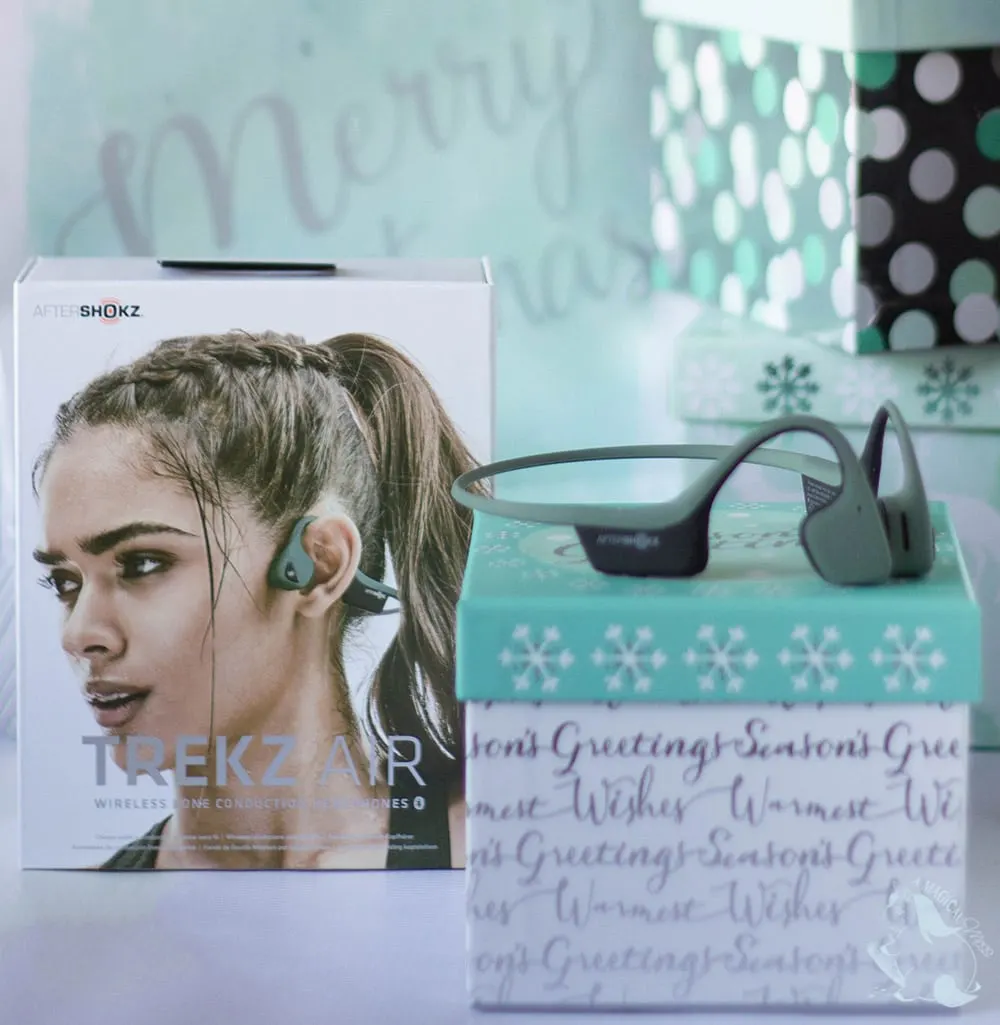 Have you ever skipped wearing earbuds because you don't want to shut out the noise completely? Maybe because you need to keep an ear on your kids or just don't feel comfortable silencing your surroundings in general?
Trekz Air headphones are open-ear, super lightweight headphones that rest over your ear. The experience is superior sound while allowing you to hear what's happening around you, as well.
Whether you're shopping for a runner, multitasking mom, podcast enthusiast, or music fanatic, these headphones are a win. The new design is also extremely durable and ready to take on nasty weather, sweat, and dirt.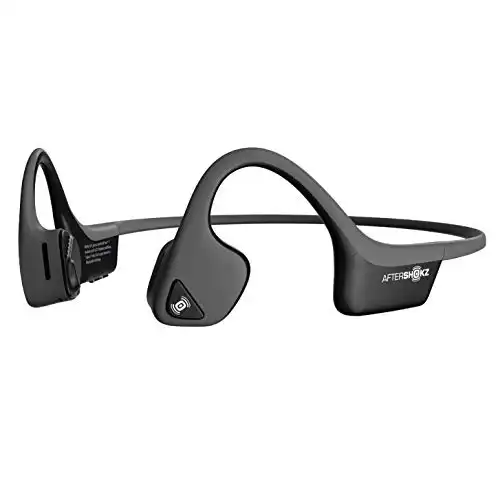 We earn a commission if you make a purchase, at no additional cost to you.
ACCESSORIZING
Does the busy woman in your life get dressed and also manage to accessorize herself properly? Get her some bling with this stunning necklace from Charles & Colvard. The Signature Halo Moissanite Necklace 0.91CTW in 14K white gold is simple yet elegantly eye-catching.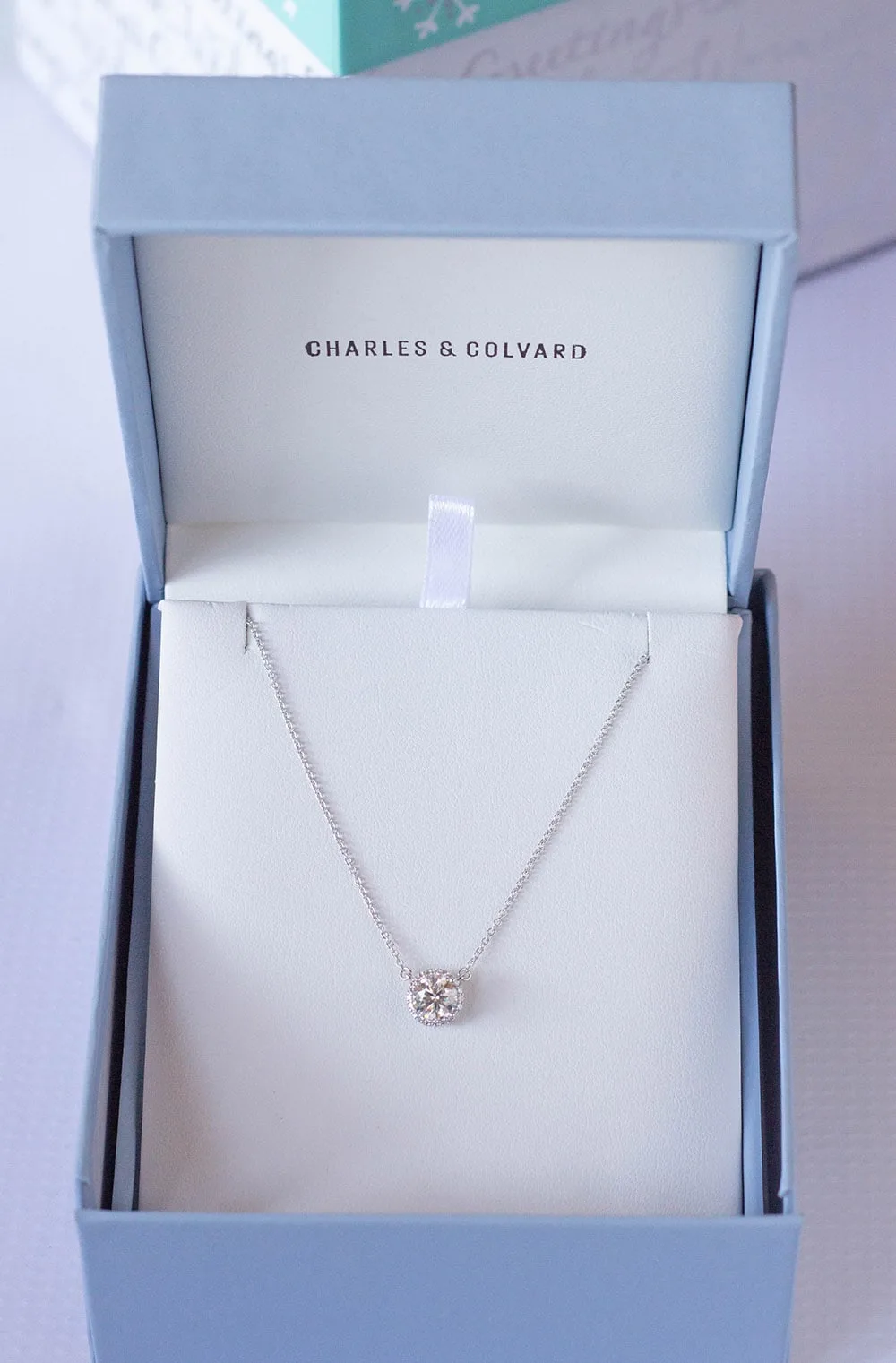 Part of the Signature Collection, this Forever One halo necklace has a Moissanite gem. What's a Moissanite gem you may ask? I just learned that it's a naturally occurring gemstone that's recreated responsibly and ethically in a lab.
Since a Moissanite gem is not mined, there is no displaced earth or contaminated water during the creation process. Not to mention it's insanely brilliant and sparkly!
Be sure to check for special offers and discounts on their social media channels and website.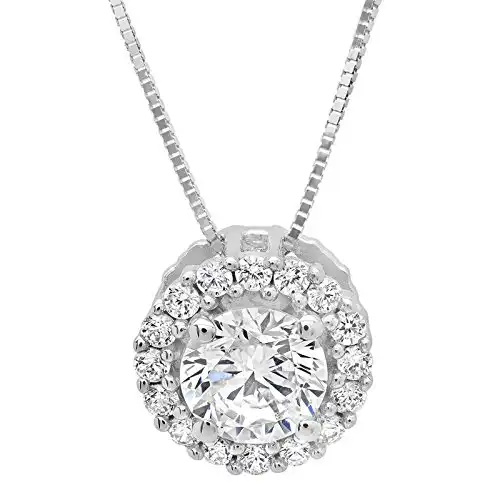 We earn a commission if you make a purchase, at no additional cost to you.
RELAXING
The busier the woman, the more relaxation needed. Encourage recharging with a Chesapeake Bay Candle. The brand is wellness-driven focusing on nature-inspired scents and a clean and contemporary design.
Amongst the Mind & Body Collection, the Stillness + Purity fragrance I received is one of the many mood-enhancing products they carry. The candles contain 100% pure essential oils and a soy wax blend contained in a softly colored glass jar that's as pleasing to the eyes as it is the nose.
Stillness + Purity Rose Water includes some of my favorite essential oils providing a soothing and calming experience.
Chesapeake Bay Mind & Body products make an excellent gift for everyone, especially health and wellness enthusiasts. Feel good about your purchase as the candles are designed and poured in the USA.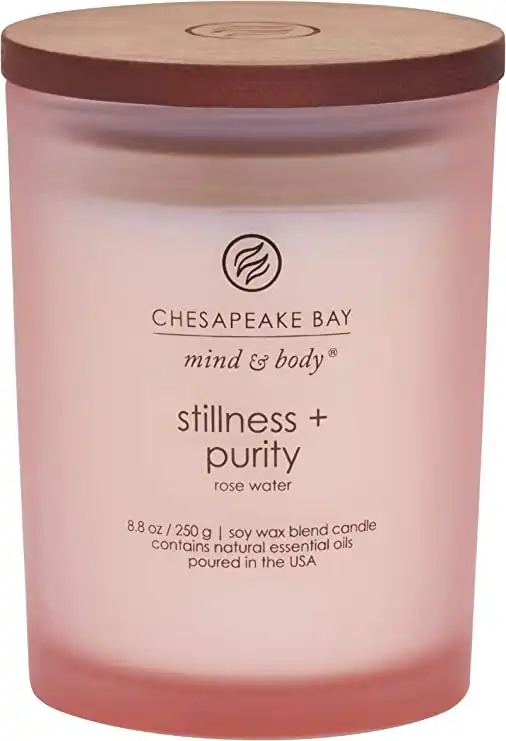 We earn a commission if you make a purchase, at no additional cost to you.
Choose a box of perfectly-curated items devoted to self-care and wellness.
The Balanced Lifestyle Box
This Balanced Lifestyle Box has a little bit of everything to take your self-care to the next level. With 8-10 full-size items PLUS samples and exclusive offers, this box is an excellent way to learn about amazing wellness products and beauty must-haves. The value of the box is up to $350, making it the perfect gift idea at a discount!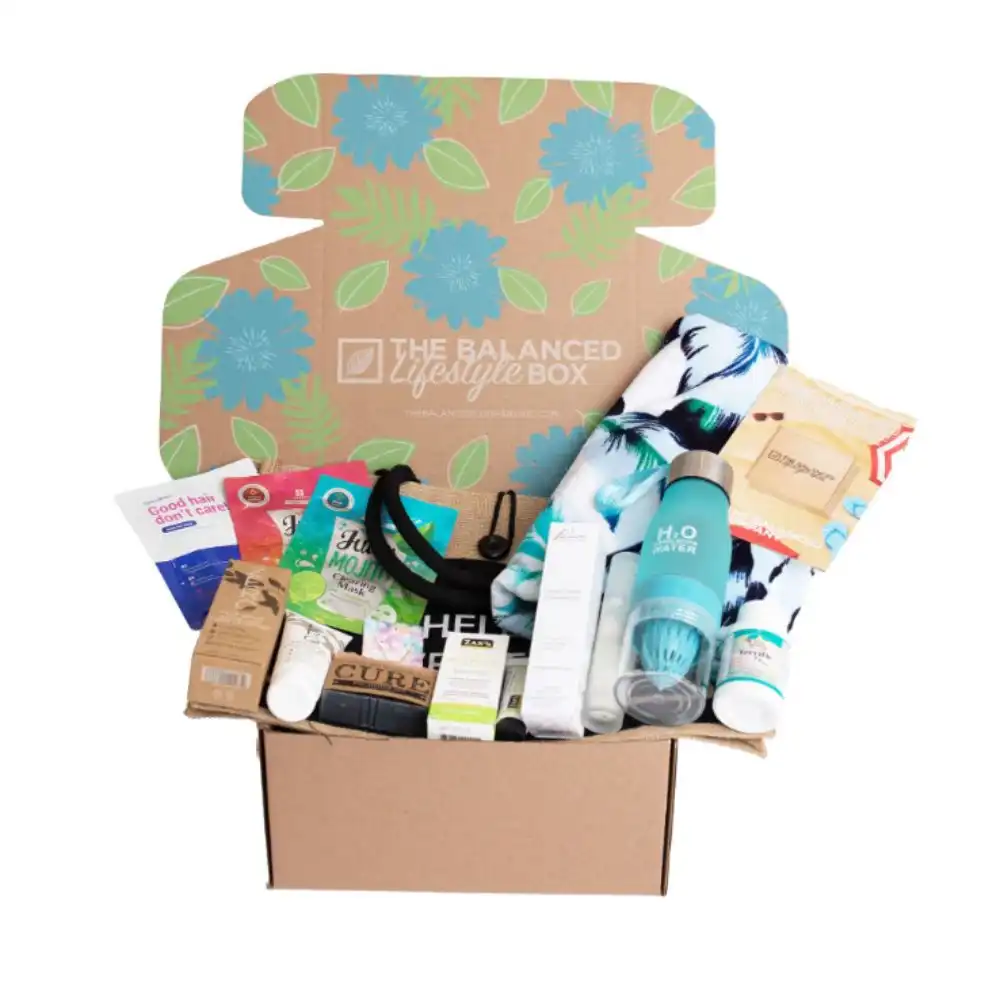 We earn a commission if you make a purchase, at no additional cost to you.
GROOMING
You know what? Men aren't the only ones who need a little facial hair attention now and then. A quick removal of the peach fuzz leaves us ladies feeling smooth and polished. The Finishing Touch Flawless facial hair remover is quick and painless.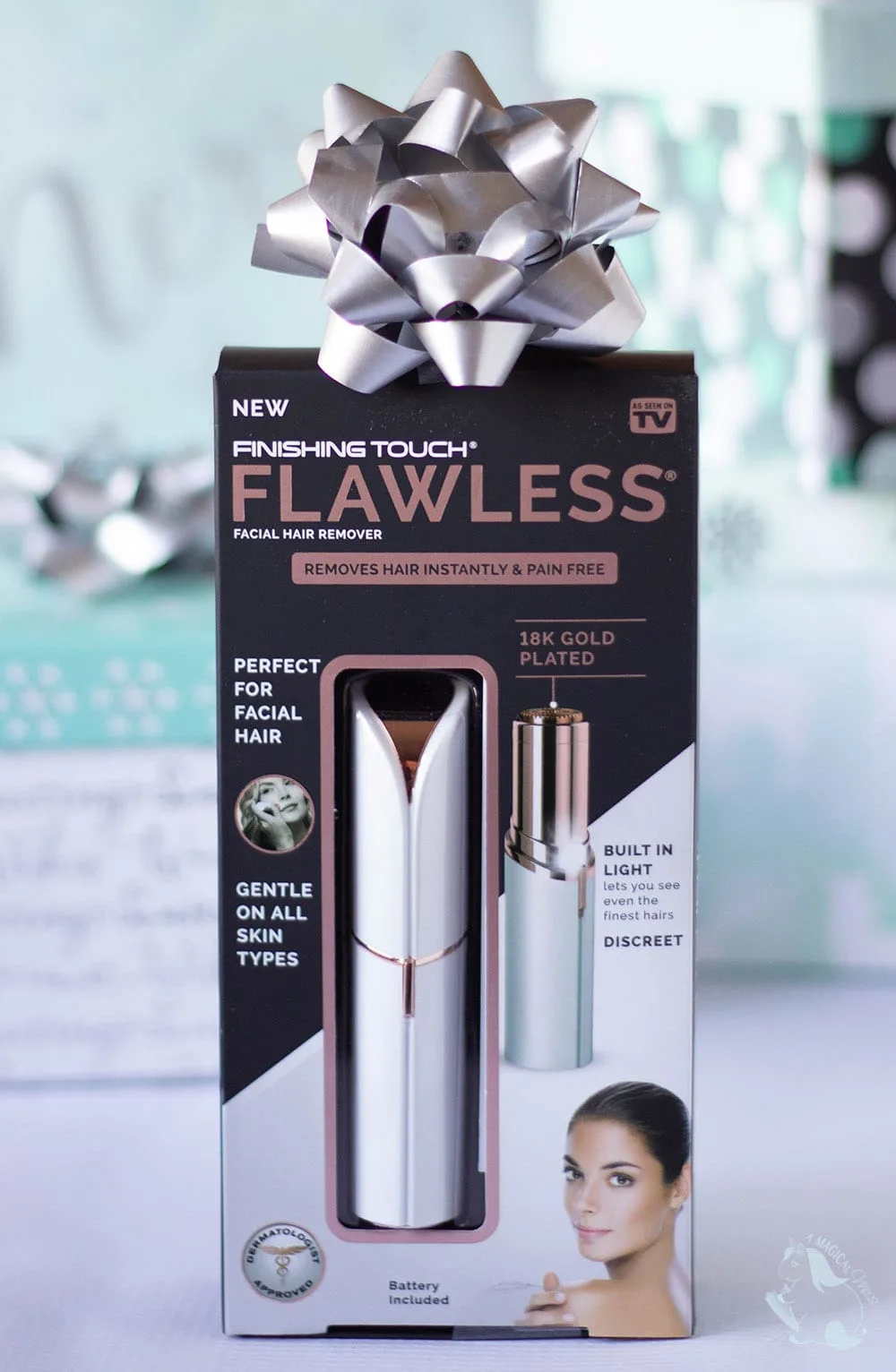 The 18K gold plated head and built-in light makes this product the new gold standard in facial hair removal tools. Even the busiest of woman can safely and quickly erase facial hair and peach fuzz without the worry of redness, bumps, or irritation.
Afraid the hair will grow back thicker? According to the package, hair will not grow back thicker — guaranteed!
Erase the waxing appointment from the packed calendar with this handy beauty tool. Upper lip hair, pesky chin whisker, and any other unwanted hairs can say goodbye!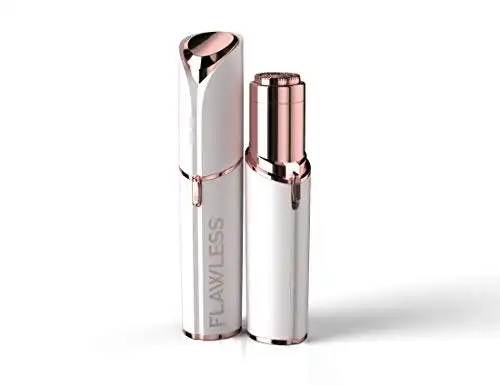 We earn a commission if you make a purchase, at no additional cost to you.
For a more pampering form of grooming, choose body wash and body butter from Nakery Beauty. The clean products infused with tightening, brightening, and moisturizing ingredients are the ultimate way to get ready for the day.
Nakery Beauty Body Butter
Nakery Beauty products are my new obsession. I love everything about their ingredients, their mission, and their quality.
The Skin Toning Body Butter is ideal for aging skin. It's formulated to help repair dry and crêpey skin. The limited edition scent I received might be my favorite scent EVER. The cream glides on smooth and leaves my skin feeling hydrated all day.
Features:
Vegan
Female-Founded
Cruelty-Free
Clean Beauty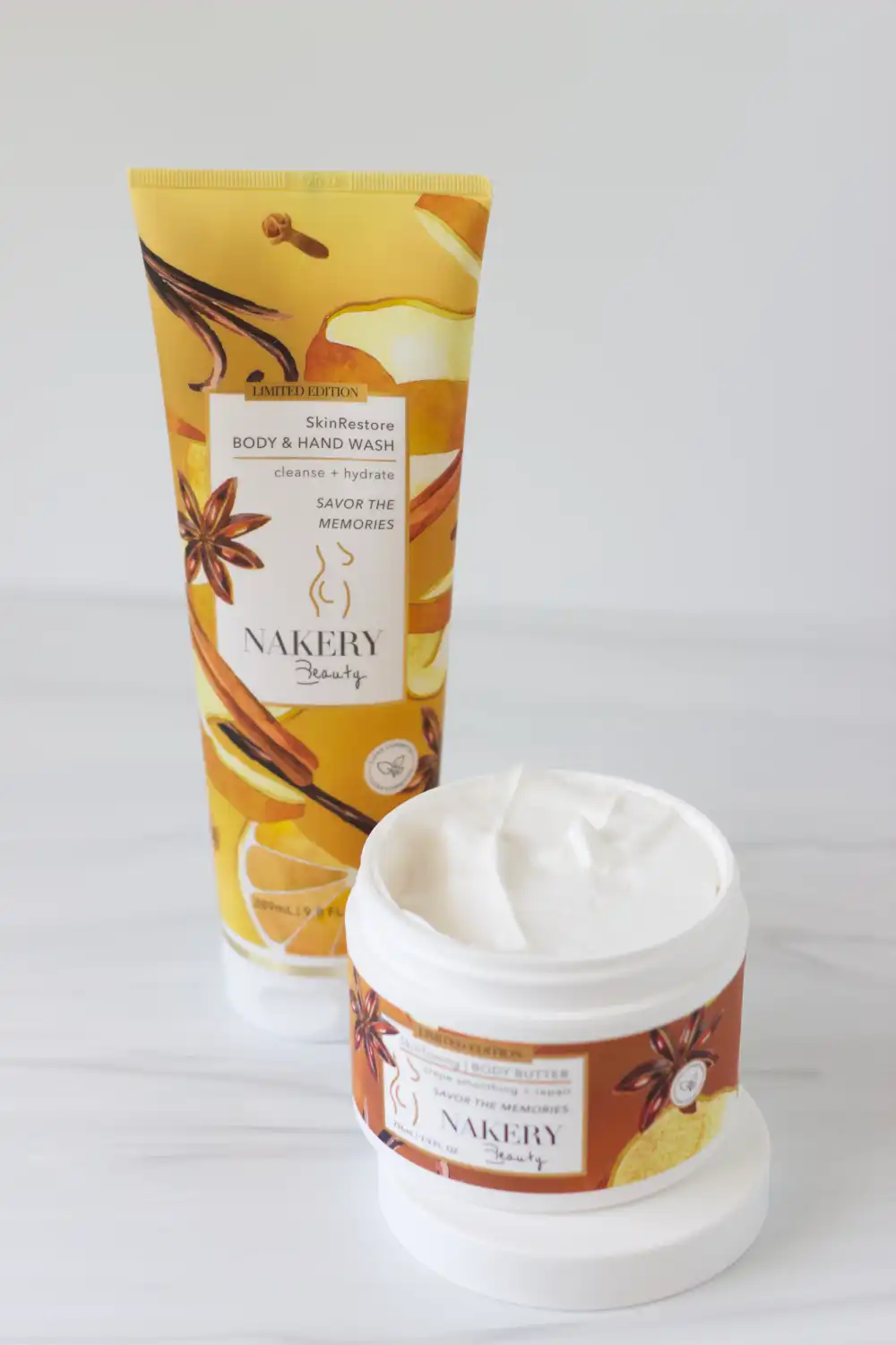 We earn a commission if you make a purchase, at no additional cost to you.
FASHION
Socks are no longer a lame gift idea. Not when they are as cute as Fun Socks Fun x Fiorucci Women's Sheer Crew Socks. Sheer socks are unique, sexy, and fashion forward for your woman who does it all.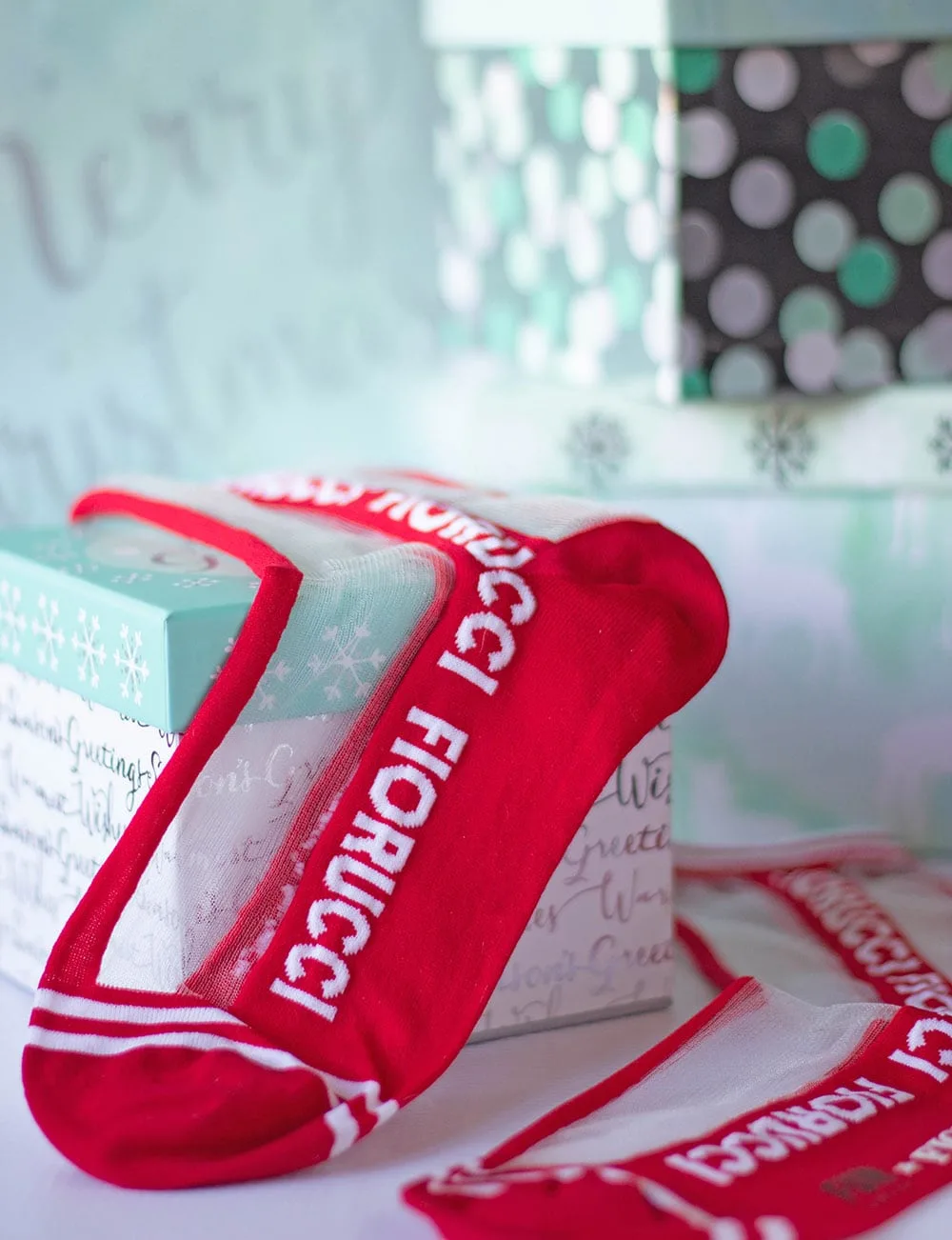 Explore the limited edition collection which includes the socks and several other winter accessories. Pair with sneakers, heels, or lounge around the house in these incredibly comfy socks. The neon red color and sheer filament panels are sure to impress any recipient of this gift.
Save an additional 15% off your entire order at FunSocks.com by using code BABBLEBOXX at checkout. One code use per customer. Expires 12/31/18. Automatically apply the discount by clicking the link below.
ENTERTAINING
Gifting a gracious hostess this season? Grab this stunning ALDI Cocktail Shaker and Glasses. Yes, ALDI.
Your next grocery shopping trip can supply you with some hot and affordable gifts. I stopped underestimating ALDI a long time ago, but in case you didn't know — ALDI rocks.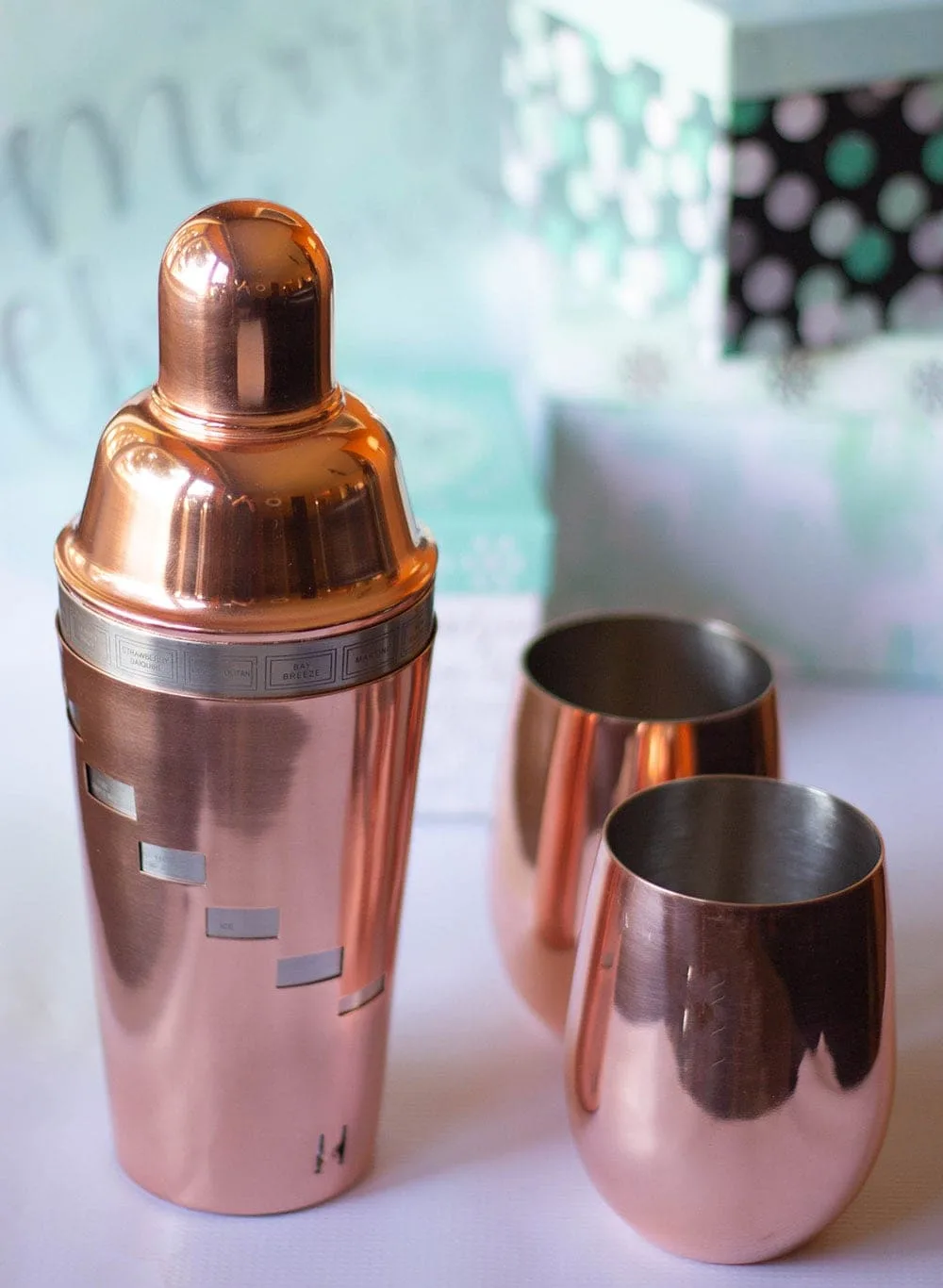 Grab the Crofton Chef's Collection Cocktail Shaker for under $10 starting 12/19/18. For a limited time only, you can score this unique shaker that has a dial on it for a shortcut to Master Mixologist status.
Turn the dial to your favorite drink recipe to reveal the ingredients on the shaker. I was already impressed by the rose gold color, but once I saw the recipe dial, I thought of several people who would love this gift.
Also, grab the Crofton Chef's Collection Moscow Mules or wine Glasses to go along with the shaker. The beautiful drinkware is available 12/19/18, as well, for a limited time and are only $8.99 for a set of two.
If you're shopping online, there's a similar rose gold cocktail shaker on amazon.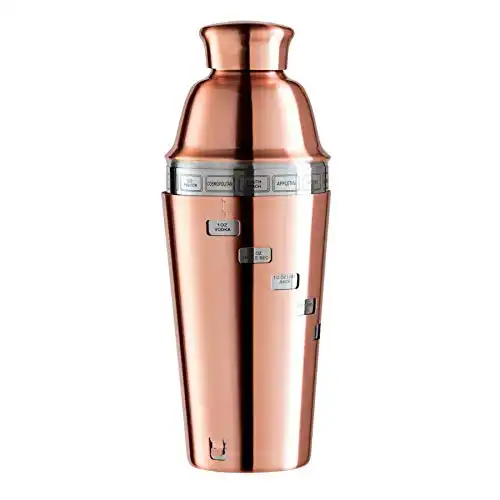 We earn a commission if you make a purchase, at no additional cost to you.
HOUSEHOLD
Gifting items associated with chores is a touchy one. Some people may find appliances and such a little offensive since it suggests it is the woman's sole responsibility to clean the house. However, if it's an item that HELPS with chores she's already doing, I believe that's a different story.
You have to use your best judgement on this one but, personally, I would be thrilled to receive a robot vacuum as a gift. A Neato smart vacuum would give me some time back and that's the most precious gift of all. Neato has a variety of robot vacuums to choose from to meet your needs. See below for details and current coupon codes!
Neato D10 Intelligent Robot Vacuum
The Neato D10 Robot Vacuum is the ultimate cleaning machine ideal for larger homes. Enjoy these features in this model:
Covers up to 2,700 sq. ft.
Use for 300 mins before recharging
Gives itself a quick recharge so it can finish the job
Picks up 60% more dust
Runs 50% quieter
Captures 99.97% of allergens
Has a mode to pickup more dog fur (!!!)
Use an app for easy setup and control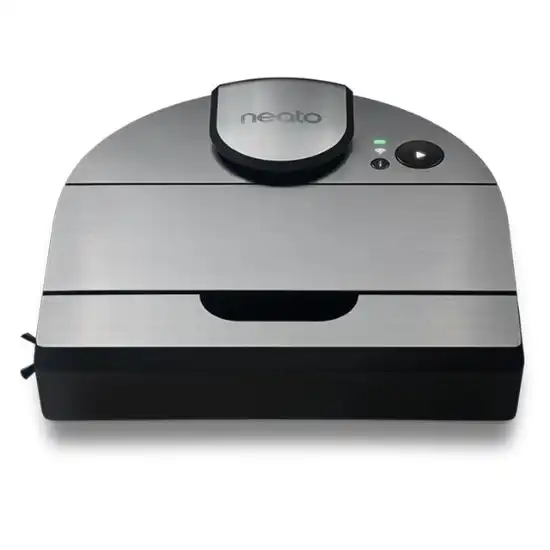 We earn a commission if you make a purchase, at no additional cost to you.
Related gift guides
Let us know which gift ideas for women who do it all are your favorite!