Kurt, Goldie, Chris, Anna, Vin, Sylvester, The Hoff… the world premiere of Guardians of the Galaxy Vol. 2 had stars needing only a first name orbiting The Dolby Theatre. If talent itself had a mass, we surely would have been sucked into a vacuum of greatness.
Perhaps that's where all my common sense disappeared to–struck by the power of the stars, I became a bumbling idiot. Despite all the preparation and promising myself I would remain composed, I lost the ability to form full sentences and communicate like a human.
I was able to attend this event as part of an all expenses paid press junket sponsored by Disney/Marvel.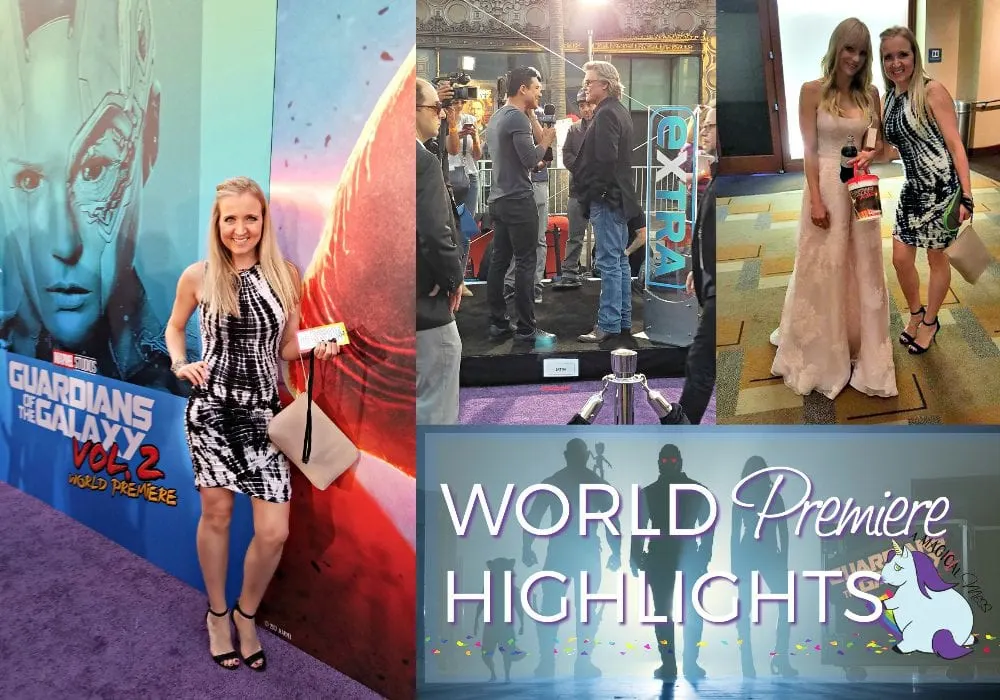 Guardians of the Galaxy Vol. 2 World Premiere
No matter how many times you tell yourself–they're just people, there really is no way to prepare for seeing this many huge celebrities at once. It's overwhelmingly exciting and captivating. When we first set foot on the Grape Fizz carpet, I found myself in a daze.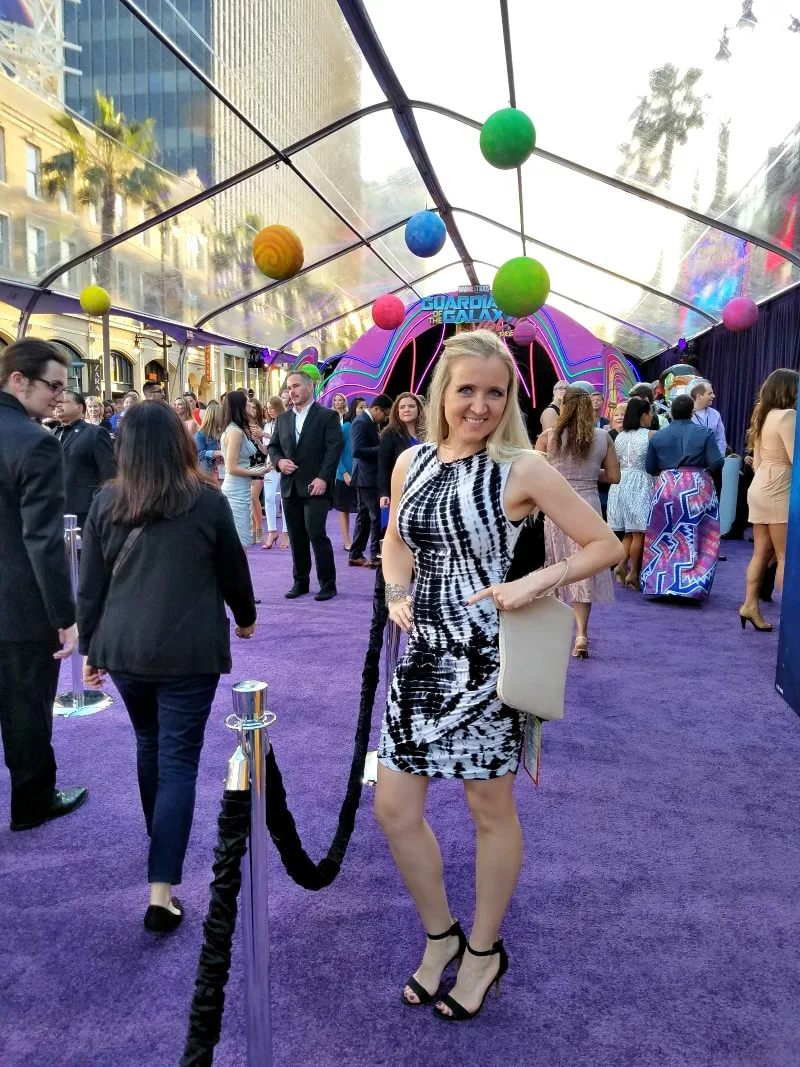 I first saw Derek Theler of Baby Daddy and got a bit weak in the knees. Any chance at a photo opp with him vanished before I could even catch my breath.
My premiere buddy, Sarah Ruhlman (check out her blog at SarahScoop.com) is the only reason we accomplished anything on the carpet. Thank you, Sarah! 🙂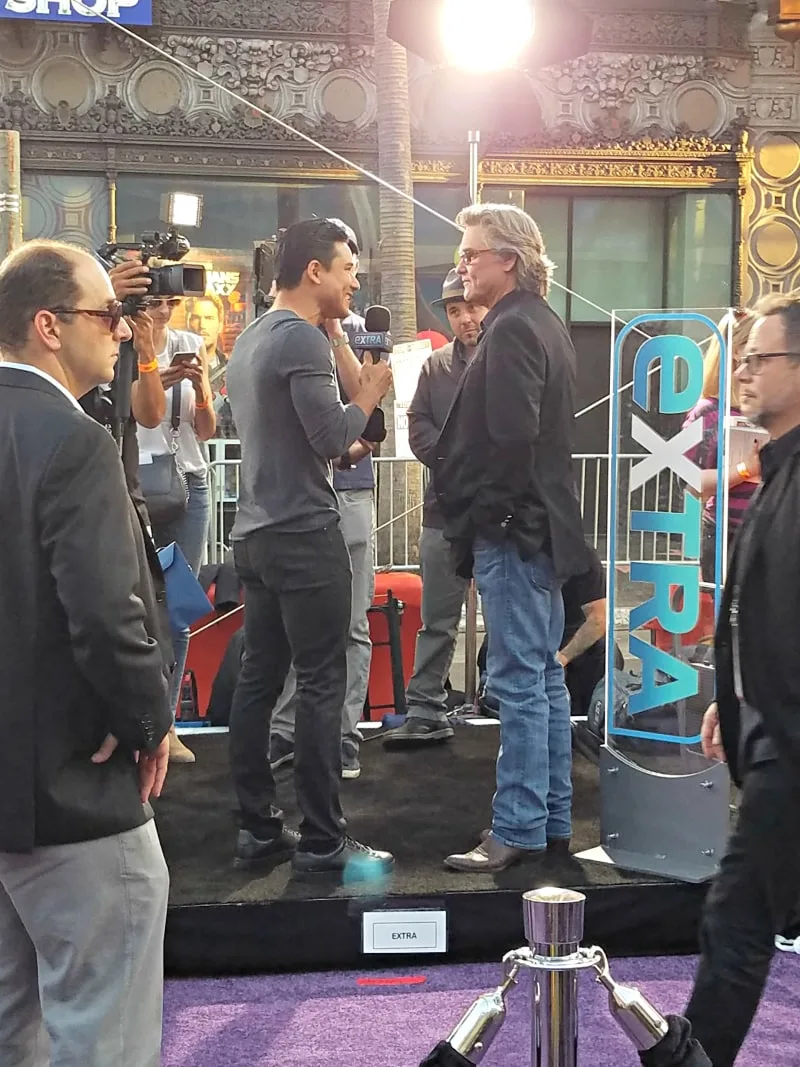 The purple carpet might be stationary, but everyone on it is expected to flow like a river. Stopping causes great upset amongst the security detail. And don't even think of trying to move upstream.
Between trying to muster up something coherent to say and tune out the poor souls trying to get you to listen to their demands to keep moving, getting photos with the talent is rather difficult. Most are also doing interviews or posing for professional photos.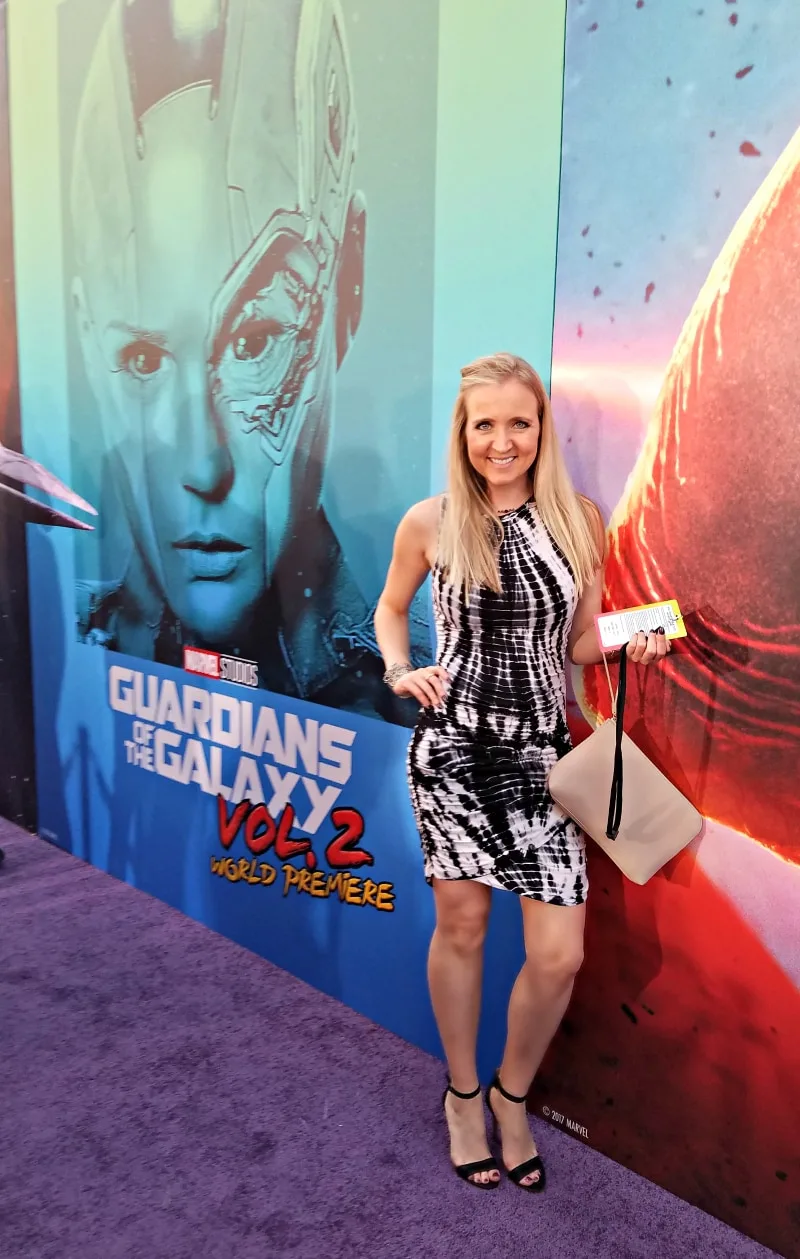 Before you know it, the carpet has ended, and you're entering the theater. It all happens so fast! For obvious reasons, they take your phone and lock it in a pouch.
It's, of course, then that I run into Goldie and Kurt (my pretend parents for the better part of my childhood) inside the theatre–cameraless.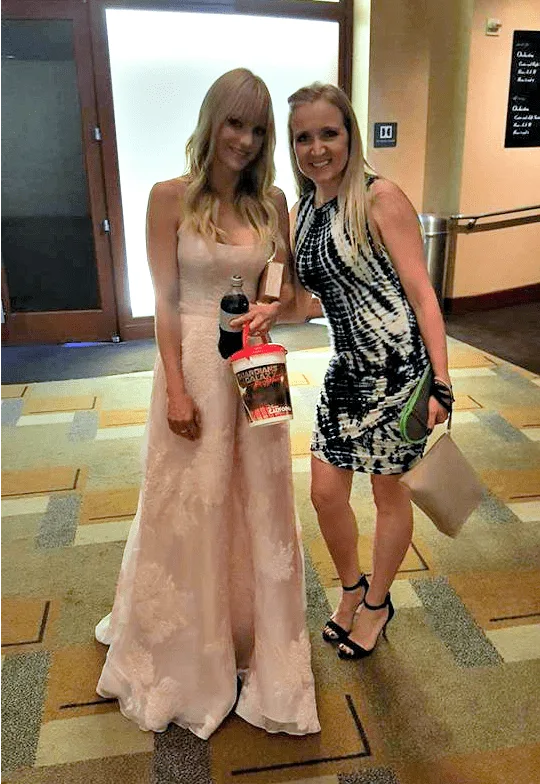 Thanks to Sarah's quick wit we were able to snap a photo with Anna Faris. She's a tiny, gorgeous, sweet lady that tolerated my rambling like a champ. Star-Lord is a lucky man.
The Dolby Theatre
First of all, sitting in The Dolby Theatre is an experience in itself. This space has housed so many magnificent events, and I couldn't stop thinking about who has sat in that seat.
I was sitting all the way off to stage left in the second row. Not the most optimal movie-viewing spot, but for something like the Oscars… I bet Meryl Streep has sat there.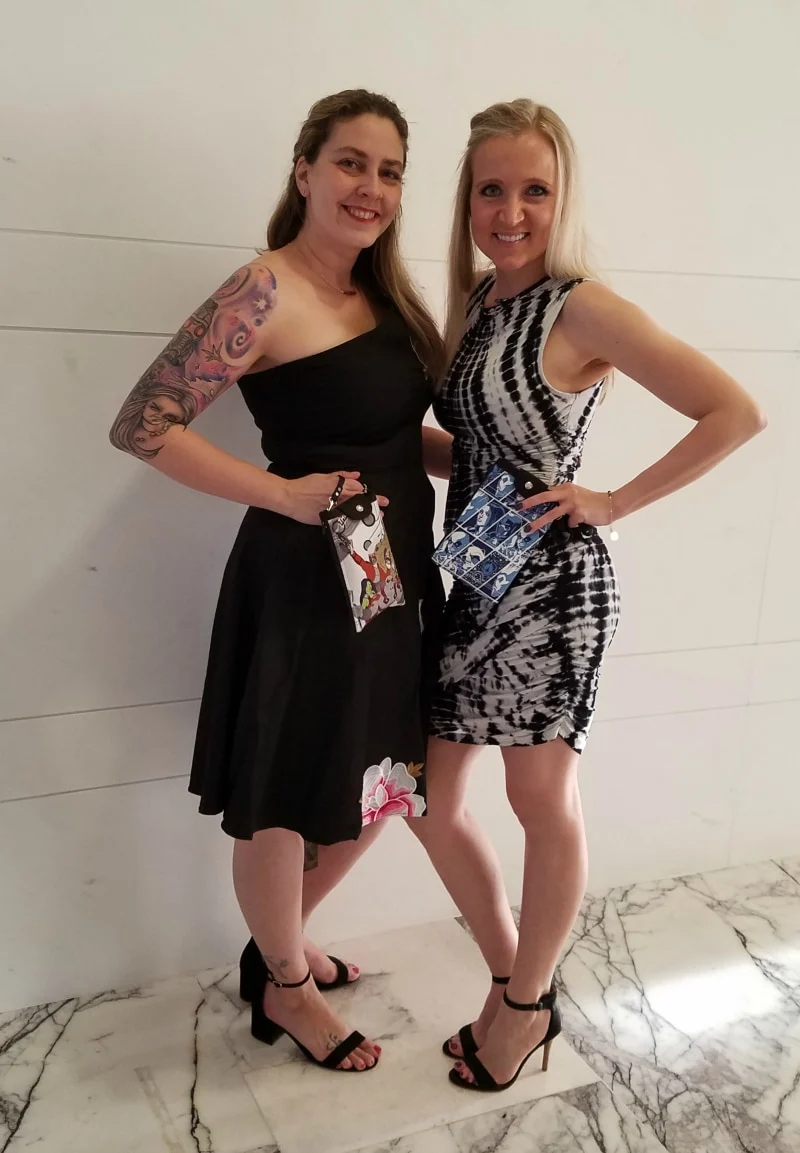 While waiting for the rest of the stars to come off the carpet and get settled, I noticed a camera man in front of me. Having no idea what to expect, I just sat and kept turning around to see where everyone was sitting.
I could see Sylvester Stallone and his daughters, Vin Diesel and his children, Anna Faris, and several others finding their seats.
The lights dimmed. All of a sudden that camera man sprung to action and as I turned to my right Chris Pratt, Michael Rooker, Sean Gunn, and a few others entered with huge smiles.
I literally could have reached out and grabbed them. They were right next to me. Chris Pratt looked down and said "Hi." Life is now complete.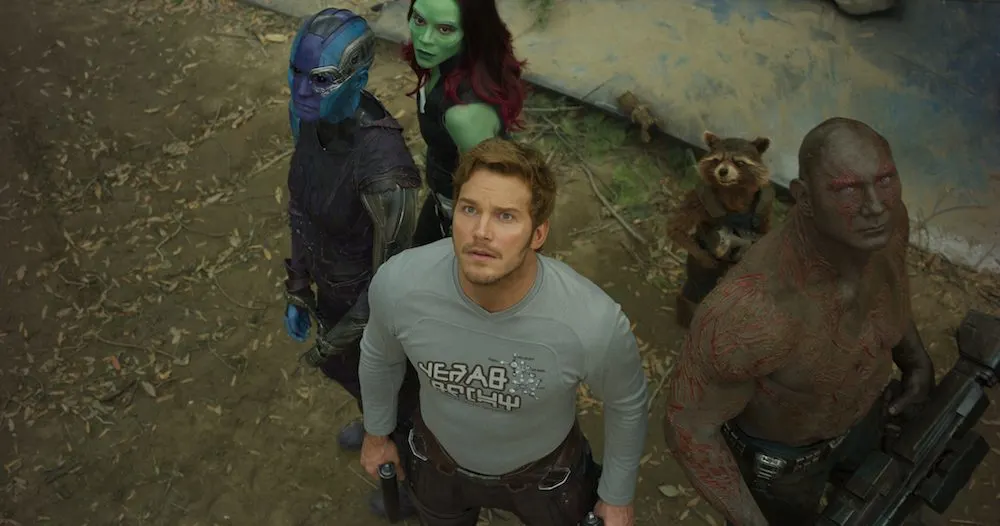 Guardians of the Galaxy Vol. 2 Review – No Spoilers
After the cast took the stage and James Gunn said a few words–including dedicating the movie to his parents that were in the audience–the screen was alive.
Baby Groot will steal your heart. Drax will have you laughing to tears. New characters and old combine to tell a deeper story of how this blended family came to be the Guardians of the Galaxy.
If you remember in Vol. 1, Star-Lord's ship isn't built to house more than a couple of beings. With the lot of them confined to such a small space, we get to see some strained–super relatable dynamics.
Like a lot of families today, blood isn't what holds them together. Rather, the bond of trauma. Surviving. Living.
Dealing with heavy issues that so many of us that come from "broken" families can understand, Guardians of the Galaxy Vol. 2 gives us all validation that none of us are ever permanently broken.
Scars are what make us strong and beautiful–on the inside. It's these imperfections that make life compelling and wonderful.
Guardians of the Galaxy Vol. 2 will be your new favorite movie. The soundtrack will also be on loop in conjunction with the first one.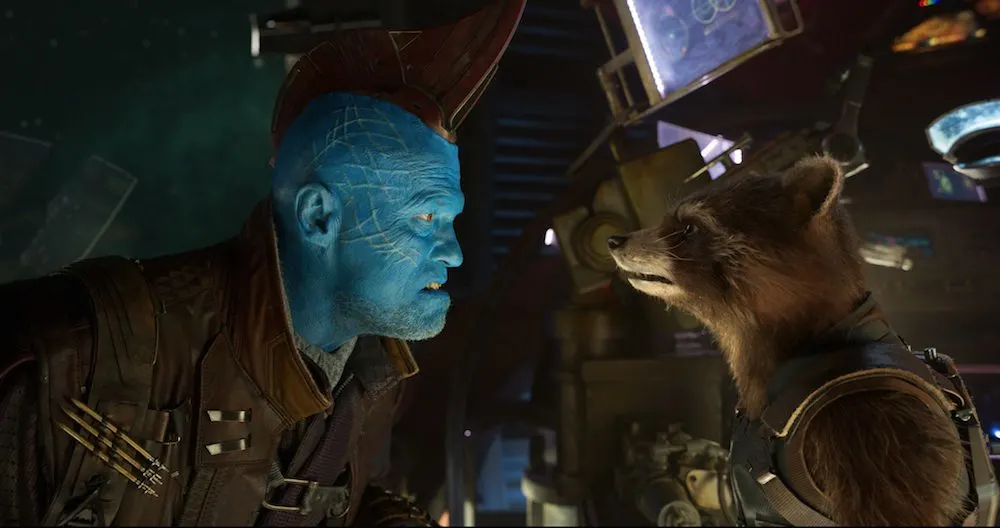 Take the whole family to see it starting May 5th! Get your tickets at Fandango.com!