Discovering new, natural products just became a lot more fun. Conscious Box is a new monthly program that delivers organic, fair trade, and pure and natural products to your doorstep. I received a box in order to share my opinions with you. Post contains affiliate links.
New Natural and Organic Products Every Month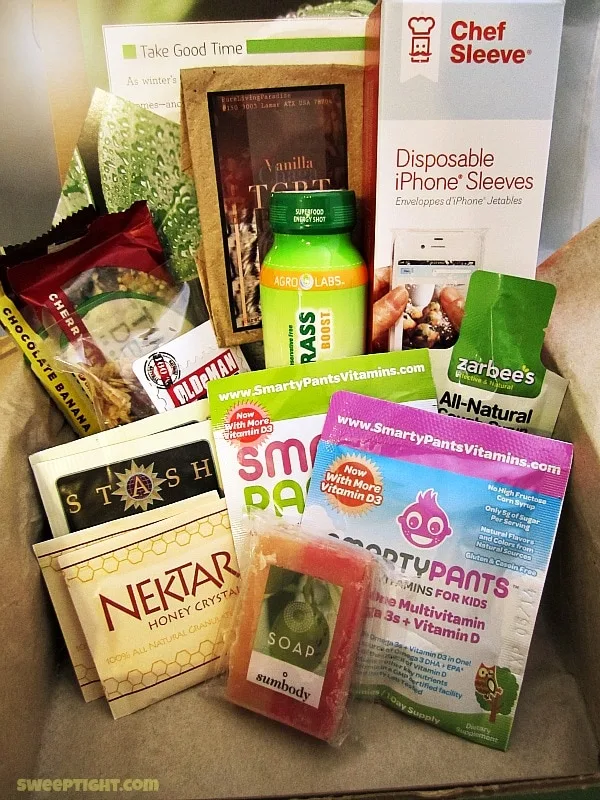 Every month there will be different items inside the Conscious Box, but in mine there were some really cool items. Here's just a few:
Zarbee's All-Natural Cough Syrup: I actually met the folks from Zarbee's at BlogHer'12. This is an extra strength cough syrup that contains clinically proven ingredients that are drug free. The honey lemon flavor is seriously the best tasting "medicine" that I have ever tried. Plus, it works!
Agro Labs Wheatgrass Boost – Now here is an energy shot for you. Instead of reaching for a sugar-laden energy drink, grab a shot of wheatgrass. What a great alternative!
Nektar Honey Crystals – 100% all natural granulated honey. I had never heard of anything like this. It's honey without the sticky mess! So excited about this. Perfect for my tea and coffee.
stash Organic Herbal Tea – Speaking of tea, here is a tasty one… Very Berry herbal tea. Caffeine free, so perfect for winding down at night. I love herbal teas and this one is a scrumptious winner.
Two Degrees Food Bars – Gluten free and vegan convenient bars that contain quinoa, chia and millet. My box contained chocolate banana and cherry almond flavors. So delicious and feel-good bars! Plus, this company donates to hungry children when you buy their product. Doesn't get any better.
I also got some yummy granola, a tiny, natural soap bar, some chewable gummy vitamins (for kids and adults), disposable iPhone sleeves, and vanilla TGRT.
Overall, this was a fantastic way to learn about new products. As you can see, there's not just food. There are beauty products and other items, as well.
Monthly boxes like this seem to be popping up everywhere. I am hooked on the idea, because you get to try new things without the huge commitment. I mean, I would have never purchased a huge box of any of these items without trying them first. Especially, organic items tend to be pricier, so you want to make sure you like them first. Conscious Box is a great way to do this.
Once you are a member you earn points on the Conscious Box website. You can use them to receive discounts on the full sized products that you try and love!
Update: Conscious Box is now Bestowed. Still the same goodies under a new fun name.