Grocery shopping is not something my kids usually get very excited about. However, when I asked who wanted to go to Mariano's, I got an enthusiastic "ME!" from both kids.
They were even more thrilled when I said we were going to shop for sweet summer treats and get Vero Gelato at the Lakeshore East location.
Summer Treats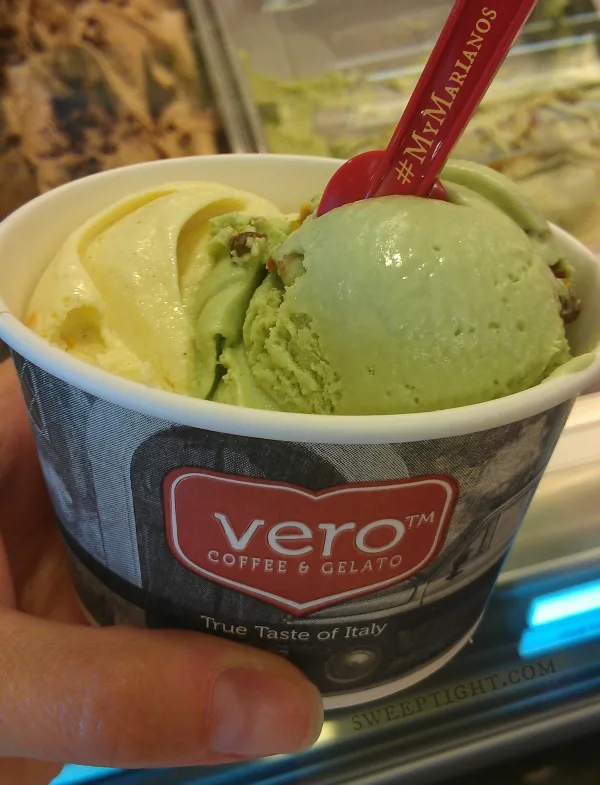 If you've never had Vero Gelato, you seriously haven't lived. The only way I know how to describe is it's like concentrated ice cream. It's super creamy and incredibly rich.
They serve it with this tiny flat spoon and when I first saw it thought well, that just doesn't seem right; I'm going to need a much bigger utensil to stuff my face properly. But I stand corrected.
Savoring small amounts of this delicious summer treat is now a favorite event for the kids and me.
Lakeshore East Mariano's
With a huge selection of flavors, it is tough to decide, but they let you try as many as you'd like before ordering. I love that the mini size is only a dollar! AND, when you have a reward card (it's free) you get one free after every 10 purchases!
Like I need more reasons to consume mass quantities? Don't judge me if I get all 10 in one trip!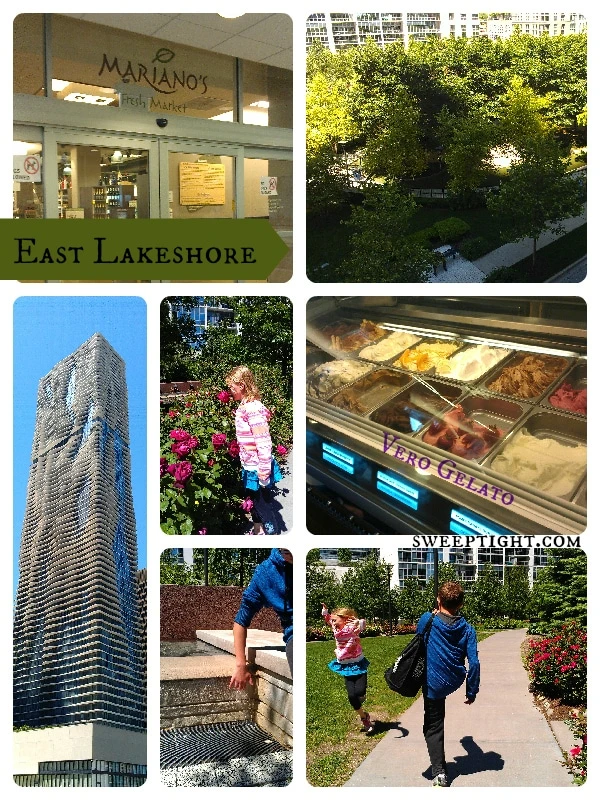 We all wanted a little more than the mini size has to offer so went with smalls. The kids and I were thrilled to enjoy this indulgent summer treat with a view.
The Lakeshore East Mariano's has a beautiful patio with a view of the park and Chicago buildings. After getting our fill, the kids had a ton of fun burning off that energy in the park.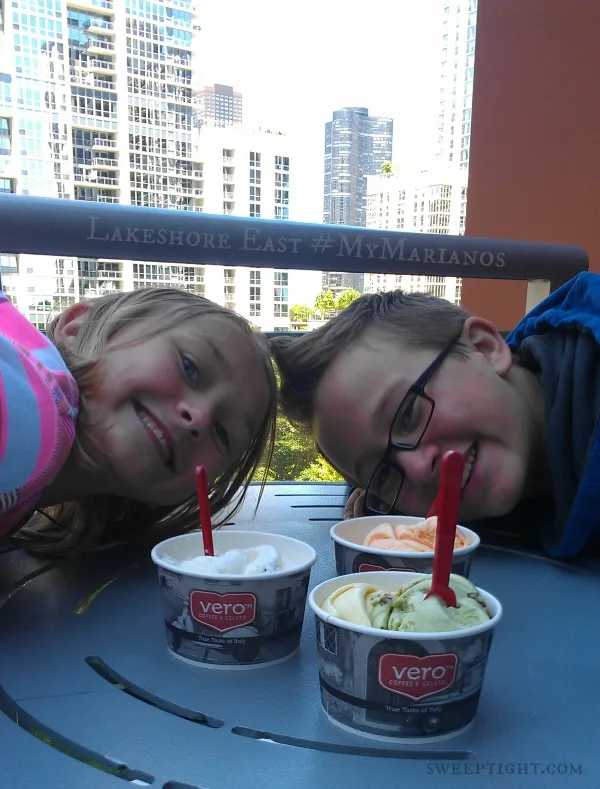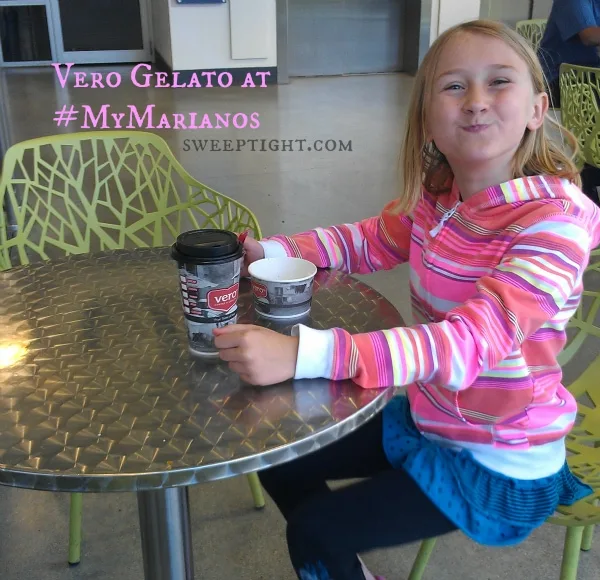 It's the little things that make Mariano's so fantastic. Chesney couldn't get over the design of the carts. They even have a cup holder for mom's coffee! That's normally her job! That second look of awe on her face was caused by the sight of homemade fudge.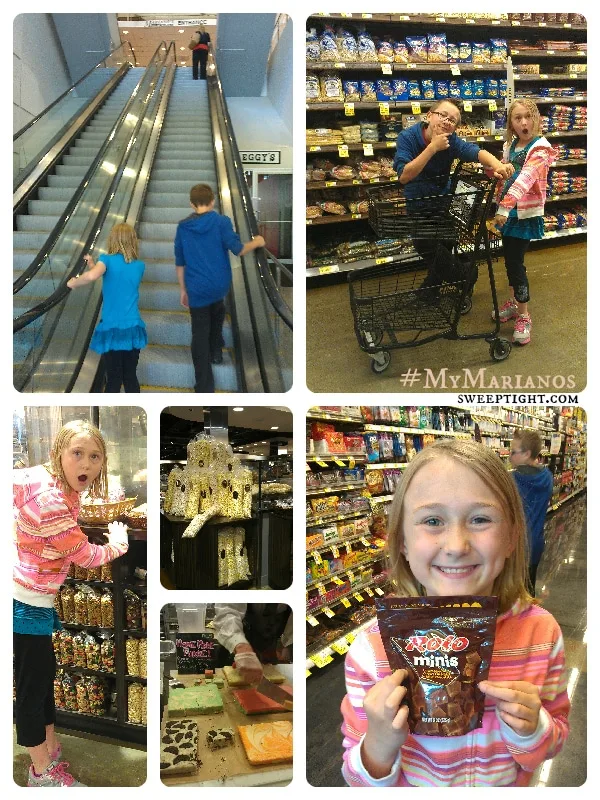 Yep, this Lakeshore East Mariano's has homemade fudge. Yeah, you read that right. Homemade. Fudge.
This super nice employee called to us over the counter and asked if we wanted to try any of the super fun flavors… like watermelon, key lime and orange cream. Um, YES! The look on the kids' faces says it all.
They were very serious that we HAD to buy some. We decided on the orange cream. (LOL I am literally nodding at my screen in approval at this decision.)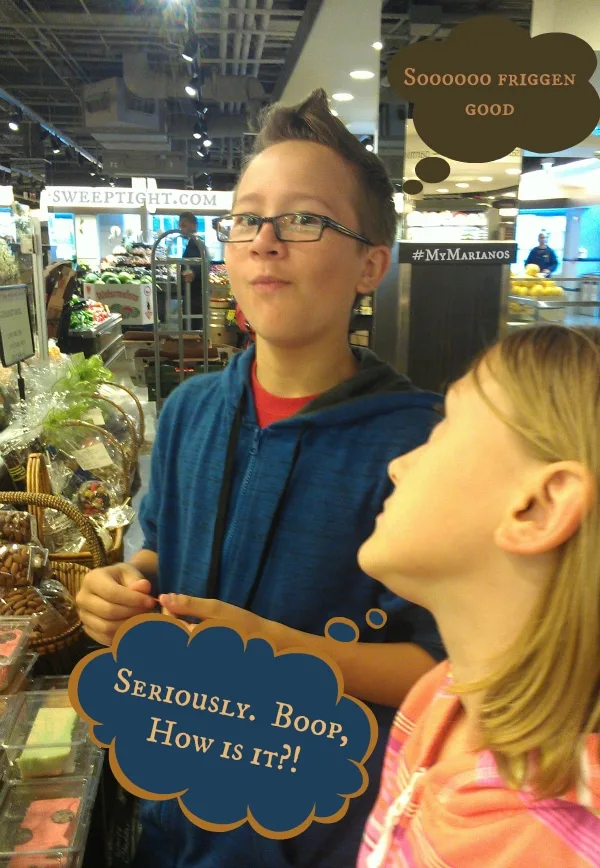 Mariano's is not your typical grocery shopping experience. It's a fun family field trip and you don't even realize you are crossing an errand off the list. What a fun day shopping at #MyMarianos!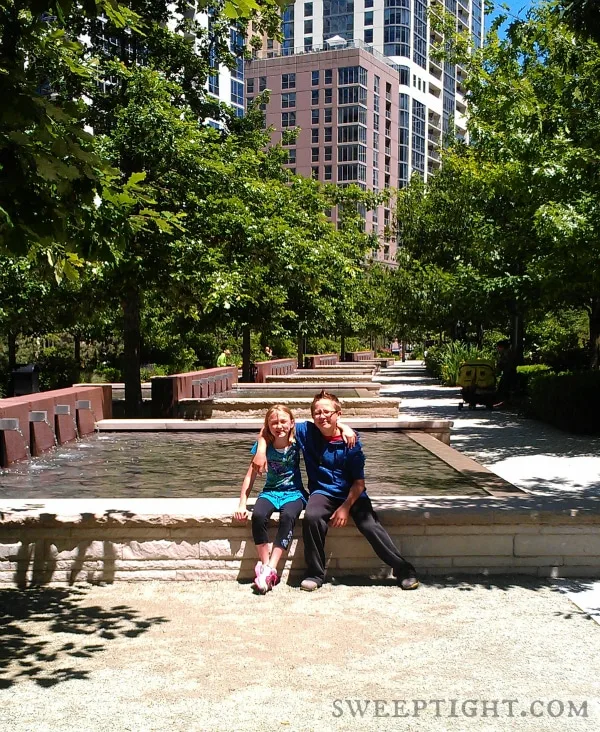 We are working on setting up our backyard for outdoor movie nights. This goofy Chicago weather has us all confused but when we finally get warm summer nights, we are going to project movies onto the barn!
So for now, we are cozy on the couch with all these delicious treats… (P.S. That is the best popcorn I have EVER had.)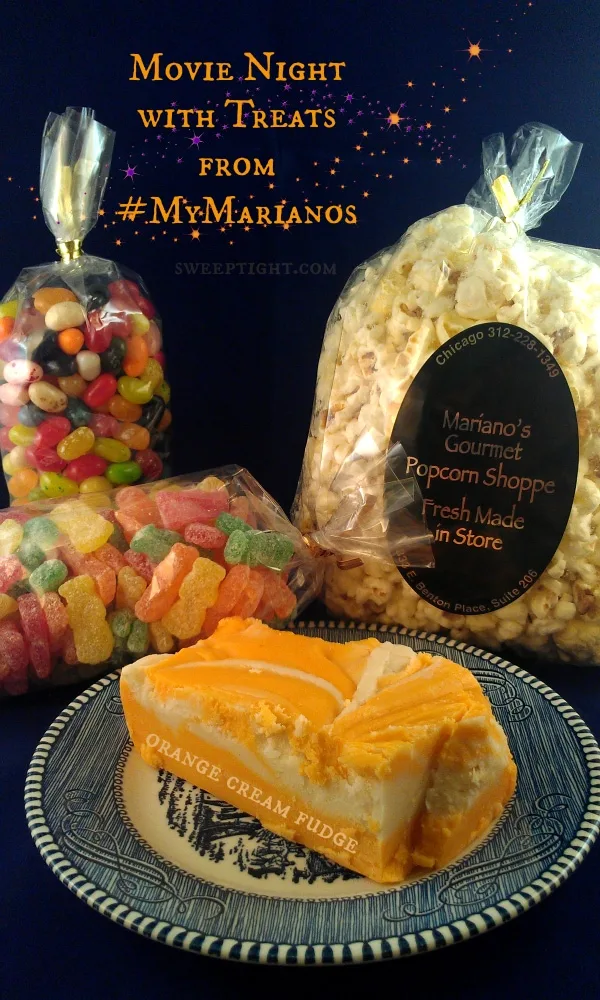 What kind of summer treats from Mariano's does your family enjoy?