Whether it's your first pet or your 30th, adding a new addition to the family is always exciting. This season, Swiffer® and Bark & Co. have teamed up to help make adjusting to your new furry friend easy. Because let's face it, #ShedHappens. This post is sponsored by Swiffer® and the BlogPaws Professional Pet Blogger Network. I am helping spread the word about Swiffer but Sweep Tight only shares information we feel is relevant to our readers. Swiffer is not responsible for the content of this article.

Welcome Home Your First Pet
This holiday season is the perfect time to get your child the gift that will be remembered for a lifetime. Adopt your child's first pet!
If you're concerned about pet hair issues, Swiffer is here to help. Cleaning is so quick and easy, it should no longer be a deciding factor when adopting a furry family member. According to the second annual Swiffer Cleaning Index, while 93% of American parents feel that having a pet is on the most rewarding experiences a child can have, 75% of those that do not already have a pet agree that concerns over pet-related messes could prevent them from getting one.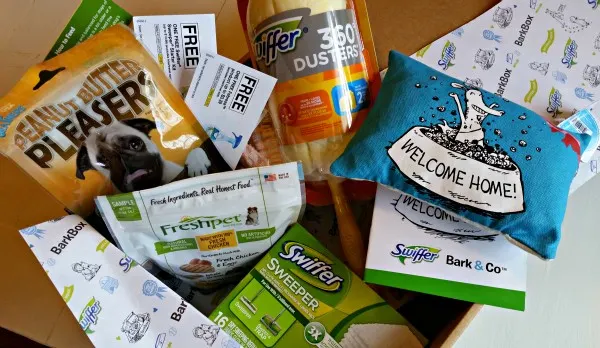 To close the gap and support pet adoption, if you adopt from a partnering shelter, you will get this sweet Welcome Home Kit with all sorts of goodies to help get you all settled.
Not only is Swiffer donating 10,000 Welcome Home Kits, they are making a $50,000 total donation to select shelters to support their needs this holiday season.
Swiffer is also teaming up with Scott Foley to celebrate Family's First Pet and the fur-ever friendship that comes with adopting your child's first pet. New pet owners are invited to share a photo of their new fur-ever family and everything in their Welcome Home Kit box with @Swiffer and @BarkBox to show how they are ready for when #ShedHappens.
Surprise!
I received two Welcome Home Kits. One for me, and one to give to a fellow pet owner dealing with pet messes. I couldn't think of anyone better to receive this box than Ben. Affectionately known as Bim. He worked as the right hand man to a wonder veterinarian for 7 years and has rescued 28 animals in the last 15 years! He's great with animals and makes a point to save the ones that are sick or a little strange to keep them from an uncertain fate.
His latest rescue was this adorable little pup you see in the video, Bibble. Bibble is adjusting well to his new fur-ever home but suffers from a bit of anxiety. He wears a diaper in the house but is getting used to venturing to the scary outside (he has to be carried by Bim–I now refer to him as the Bibble Chariot) for potty breaks.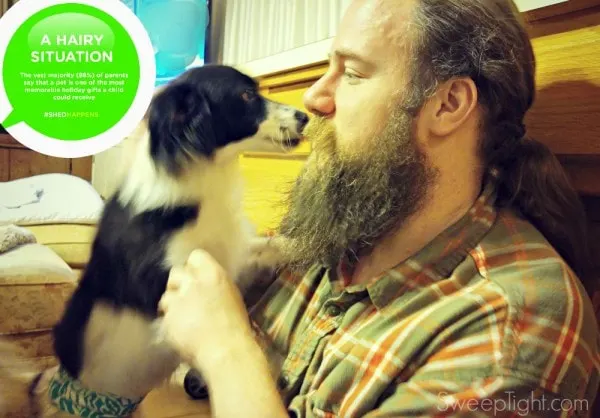 If it weren't for people like Bim, these animals may not have such a warm future. So, thank you to all of you big-hearted, great humans out there! And to Swiffer and BarkBox for supporting them all!
Find Swiffer on Facebook
follow on Twitter and
subscribe on YouTube
Does your child have their first pet yet?