If you are reading this, you probably have a pet that is a very important part of your family. Summertime is full of fun, friends, family, and a flurry of outdoor activities so make sure your beloved pooch is safe this summer with these 10 summer safety tips for dogs.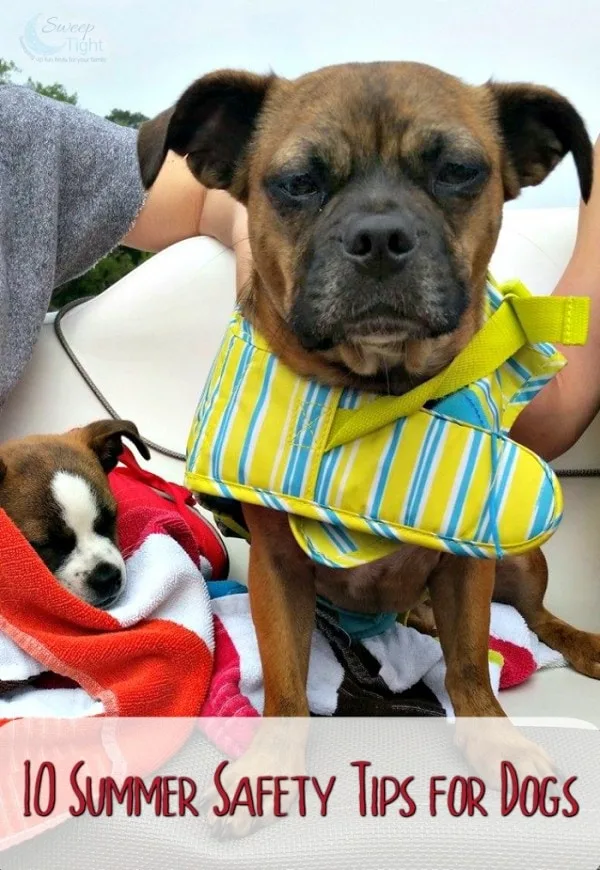 10 Summer Safety Tips for Dogs
Fleas & Ticks – Fleas and ticks are at the height of breeding season during the heat of summer and are much more of a risk than usual. Use proper vet recommended flea and tick control. If you will be in the woods or the problem seems to be worse you will want to ask what additional measures or stronger medicine you can use to keep them at bay.
Sunburn – Protect your dog from the sun by purchasing and applying sunscreen made for dogs when you are outside. While their fur does help some, there are still areas that are very susceptible to burn like the mouth, belly, and ears.
Water – During the hot summer temps, you should always provide your dog with plenty of clean drinking water indoors and out. Even if you are just around the yard, it is a great idea to have a bowl available. If you are hiking or traveling, take along a collapsible bowl or a travel thermos with bowl.
People Food – Who can resist that cute wagging tail and pleading eyes underneath the picnic table? Avoid letting your dog clean the plates, and slipping food under the table to them (too many of us are doing this and at the least your poor dog will end up with a bad stomachache). While some summer foods are fine for your dog in moderation like – fresh green beans, carrots, small bits of meat without sauces, and blueberries some should be avoided. Things like ice cream, alcohol, grapes, onions, and candy should be forbidden.
Cars – I know it is so tempting to take your pooch with you everywhere you go, but unless you can take your dog with you – dog parks, outdoor restaurants, etc… it is best to leave them at home even if you are just "running in for a second" for errands. Too many dogs die of heat stroke when left in cars, and it is just not worth the risk.
Traveling – When traveling long distances especially by car consider getting a pet booster seat. This allows them to see out the window, lay down and rest, and be securely tethered in the seat – be sure to get one their size. If traveling by train or plane, you will need a crate that comfortably houses your pet for the trip.
Dog Parks – Take a quick visual survey of the dog park before you let them off the leash, don't assume that it's safe. Look for holes in the fence, dangerous items on the ground, aggressive dogs, and other hazards.
Fireworks – Many dogs are horrified of the loud noises that fireworks put out. Keep your pet indoors during celebrations that have fireworks. The noise may scare them away to where they become lost or even wander into traffic to get away from it (same goes for thunderstorms). More tips here.
Pools/Beaches/Boating – We talked about making sure your pet gets enough water to drink, but it is also important to cover another type of water safety. If you will be out on a boat, your dog should have a life vest just like you. At dog-friendly beaches you want to watch for signs of ingesting too much water, exhaustion, and aggressive dogs.
First Aid Kit – Keeping a basic first aid kit on hand for your dog is a great idea to help with minor issues or until they can be seen by a vet for other matters. I have put one together for you here!
Do you have any summer safety tips for dogs to share?