The festive season is just around the corner and your mind must have already been started giving birth to new ideas on how to give yourself a different look this Christmas, especially if you are a woman. Well, the idea is very simple.
Since it's Christmas time, everything – from dresses to decoration – are bound to be dazzling and glittering. So, to complement the surroundings and to have a perfect holiday makeup look is – simply include the glitter factor in your makeup and get emerged in the glittering celebrations.
Tips for a Glittery Holiday Makeup Look
Now that you have decided to go for a glitter holiday makeup, you have to make sure you dip yourself in glitters from head to toe (not literally). Well, we will now explain you how you can have a glitter makeup on your skin, lips, eyes, cheeks and body. Read on:
1. Glittering skin
First and foremost step to get the best out of your looks for the holiday is to take care of your skin and keep it radiant and shining. For this, follow these simple steps:
a. Wash your face twice daily.
b. Drink plenty of water.
c. Use good quality face wash.
d. Mix honey and sugar in a bowl and apply this on your face for 3-5 minutes. Massage well in circular motions. This is the best and easiest way to remove dead skin from your face.
e. Clean your face with cleansing milk before hitting the bed.
f. Moisturize your face every day.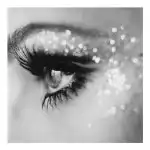 2. Glittering eyes
Eyes are the best part of the body, where you can use glitters and flaunt them easily. It adds on to the sexy looks of your eyes. Following is the way to apply glitter for that perfect holiday look:
a. Wash your face with a good face wash and luke warm water. Pat dry with a soft towel. Now apply the foundation on your face and start the eye makeup.
b. Apply regular eyeshadow of your choice of color.
c. Dab on some glitter (golden or silver) in the center of your main lid. Make sure to add the glitter gel before applying.
d. Now apply a fine stroke of glitter eyeliner in the upper or lower lash line and you are done.
You can also buy a pair of artificial glitter eyelashes for yourself.
3. Glittering cheeks
Using a blusher, apply a shimmer highlighter on your cheekbones. Shimmer highlighters have two variations – powder and liquid. Choose whichever you are comfortable with. Shimmer gives you just a slight sheen and is even great for wearing during the day.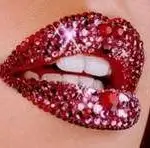 4. Glittering lips
What can be a better choice than a lipgloss for that glittering holiday lips oops looks! Well, for a better look and long-lasting effect, don't apply it directly and follow these simple steps:
a. Outline your lips using lip liner.
b. Apply a little powder.
c. Take any lipstick of your choice and apply well.
d. Blot your lips on a tissue paper and then apply either a plain or a matching (with lipstick color) lipgloss.
For a perfect holiday look, go for deep reds and pinks.
5. Glittering body
Generally for a holiday party, off-shoulders, strapless or deep necklines are preferred. They leave your upper body bare, hence giving you an amazing chance to decorate it. Dust on some shimmer, or dry glitters on your cleavage, arms and back.
6. Glittering nails
This is so simple. Just buy yourself a glitter nail paint. The color should match your dress. You can also try some easy glitter nail art at home.
+++++++++++++++++++++++++++++++++++++++++++++++++++++++++++++++++++++++++++++++++++++
About the author: Rebecca is a blogger by profession. She loves writing on luxury and technology. Beside this she is fond of automobiles. These days she is busy in writing an article on quick beauty tips.