There are many places to have a birthday party these days. Back when I was young, it was pretty much Showbiz Pizza or Haunted Trails. Kids have much more exciting options these days. Places with lots of activity is a bonus. That way the kids get to burn off some energy while having a birthday celebration blast. Groupon Coupons has sponsored this post. All opinions are my own.
7 Places to Have a Birthday Party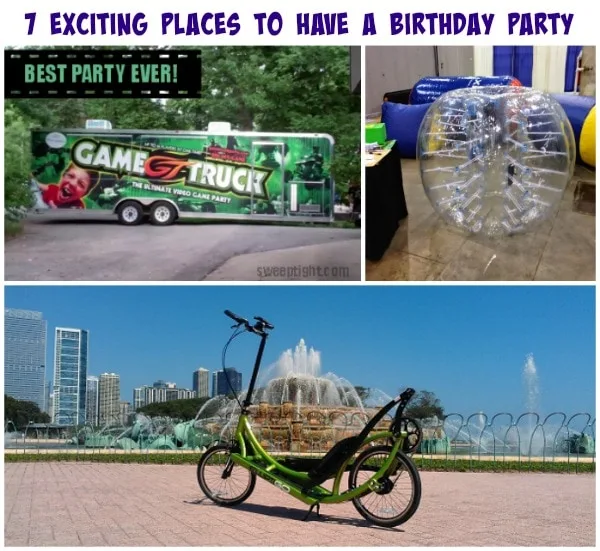 Trampoline Park – An indoor trampoline park sounds like an epic amount of fun. Bounce, flip, flop, and laugh your butt off at Sky Zone. For the worriers like me out there, Sky Zone Indoor Trampoline Park has many rules set in place for ultimate safety. A birthday party like this would have the kids talking for years to come.
Velcro Wall – Dress up in a suit and fling yourself into a wall of Velcro. If that's not fun, I don't know what it. It sounds like more fun for the onlookers than the actual jumper, but I can imagine the whole birthday bash laughing like crazy. Find a place near you that has Velcro walls, or they are available to rent.
Paint Ball – You have to know your guests for this one. If your birthday party attendees are adrenaline-seekers, plan a day of paint ball. There are many places that offer fun courses for the ultimate excitement and intensity.
Roller Skating – Okay, maybe I am showing my age here, but good old-fashioned roller skating can still be a great time. I know I don't see too many roller rinks around these days, but seeking one out and throwing a party there would make for a fun time.
Laser Tag – Just as fun as paint ball without the welts from the pellets. Laser Tag can basically bring your teen's video games to life – safely, of course.
Bumperz – Insert your guests into balls and let them plow into each other. Parents can play along, or just keep the video rolling on the sidelines. I can imagine it would be an instant YouTube hit. I was excited to see that a Game Truck near us now offers a Bumperz rental. Just have the party somewhere where there's lots of open space, and Game Truck comes to you. They also offer their video game truck and a laser tag setup.
ElliptiGo – Here in Chicago, you can rent ElliptiGos for an energetic way to tour the city during nice weather. They are easy to use, while giving you a bit of a workout. This is an idea for a family birthday party, since it's perfect for any age, and better for smaller groups. The only way we found out about this was from Groupon. (Always check Groupon!)
When it comes time for making treats for guests, definitely check Groupon Coupons, too! They have coupons for places like Oriental Trading, which is excellent for goody bag supplies!
In Chicago we have an insane amount of options for exciting birthday parties. In the summer you can take advantage of so many things to do in the city. Check to see if any of these fun birthday party ideas are available in your area.