Starting an emergency fund is on my to-do list. I am not talking about a savings account. I mean a separate fund for emergencies. You never know when something pricey can come up. The phrase, "When it rains, it pours" is frequently used for a reason.

I am convinced that our appliances secretly communicate and conspire against us. It never fails that more than one will break at a time. This goes for vehicles, too. In the past few months, we have had to replace a hot water tank, fix our dryer, pay some hefty medical bills, and two out of our three vehicles have required some expensive maintenance. Oh, and my blender and mixer just broke while making Thanksgiving goodies. If we had an account strictly for an emergency fund in place, we could easily wipe it out.
I could go on and on about why an emergency account is important, but I don't think that's necessary. We all know how expenses like to pop up and push our bank accounts to their limits. Instead, I would like to share some tips on how to either start an emergency fund or help build it up.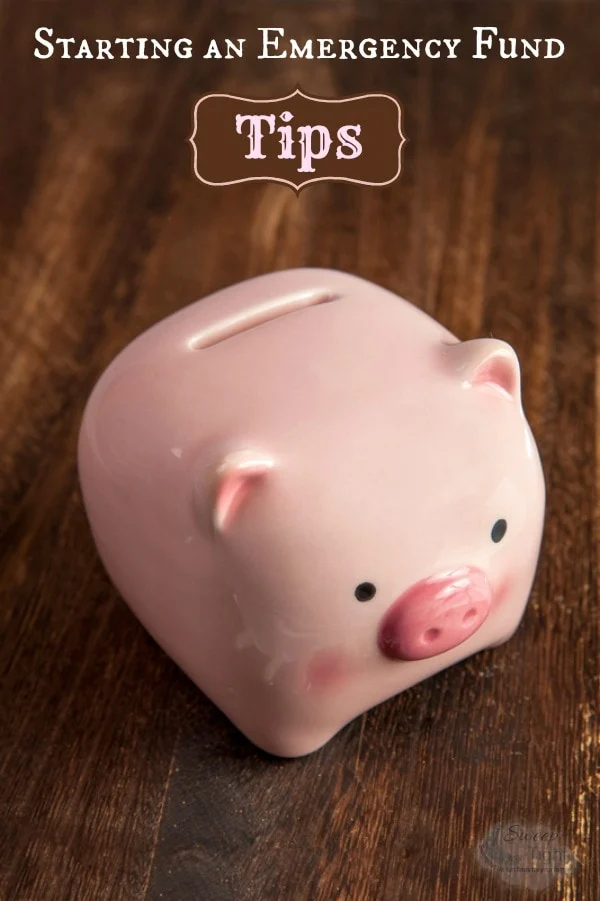 Tips to Start an Emergency Fund
Save change – If you pay cash while shopping, always give a larger bill and save the change. You are never too old for a piggy bank. It's easy to toss change into it without missing the money. It can add up quickly when you take that full piggy to the bank.
Clip coupons – When you clip coupons and save on groceries, actually save that money. Look at the bottom of your receipt and put that amount into your emergency fund. Sure, this takes discipline, but so does cutting coupons. Tip: Use the Acorns app to round-up spendings to save automatically.
Shop banks – When it comes time to open your new emergency account, shop around. Look at Capital One 360's Black Friday sale where you can take advantage of fee-free accounts, plus earn cash bonuses just for depositing. In addition to taking advantage of deals on banking, brokerage and mortgage products yourself, you can give your friends and family the gift of financial peace of mind by encouraging them to take advantage of the deals and refer them to the sale. If they sign up, you may be eligible for a $40 referral bonus.
Pay your bills on time – Yes, this is not always easy, but think of all the fees you avoid by paying your bills on time. Find a system that works for you. I know many people now use online bill-paying. Personally, I am still old school. I write checks to pay my bills and then place them into my daily planner as to when they need to be mailed. This also shows me the reality of my spending. I am never tricked into thinking there's extra money in my checking account!
Hunt for deals – Between the internet and apps these days, finding deals is easier than ever. Always do your research before shopping. I save so much when shopping online by using coupon codes, cash back shopping, and combining the two. And it doesn't take much time to do so!
Sell your stuff – Once again the internet is making it easier than ever to liquidate things you are no longer using. No need to have a labor-intensive garage sale when you can push a few buttons and sell online. If you aren't comfortable with sites like, Amazon, eBay, or Craigslist, there are many Facebook groups where local people list items for sale or trade.
There are just a few tips that I plan on using to start and, hopefully, beef up an account for emergencies only. I want to try to make it a rule that we have to have a certain amount in the fund at all times. Whenever it dips down, we will have to really tighten up to replenish it. It's all worth it to have #FinancialPeace!
Hurry and open a Capital One 360 account now to take advantage of the $100 bonus. That's a good way to start the emergency fund off right!
Do you have an emergency fund? How about any additional tips to save money?