Our adventure began on the magical rainbow brick road outside of the best hotel in Baltimore. Natasha Nicholes and I were on the Kia Rio National Press Introduction in Baltimore and jumped at the chance to road trip home together.
Huge thanks to Kia for sponsoring dreams and bringing strangers together behind the wheel. This spontaneous road trip resulted in lasting memories and a new, lifelong friendship. We came up with a few road trip tips to share as we made our way to Chicago. This post contains affiliate links. All thoughts and opinions shared here are my own.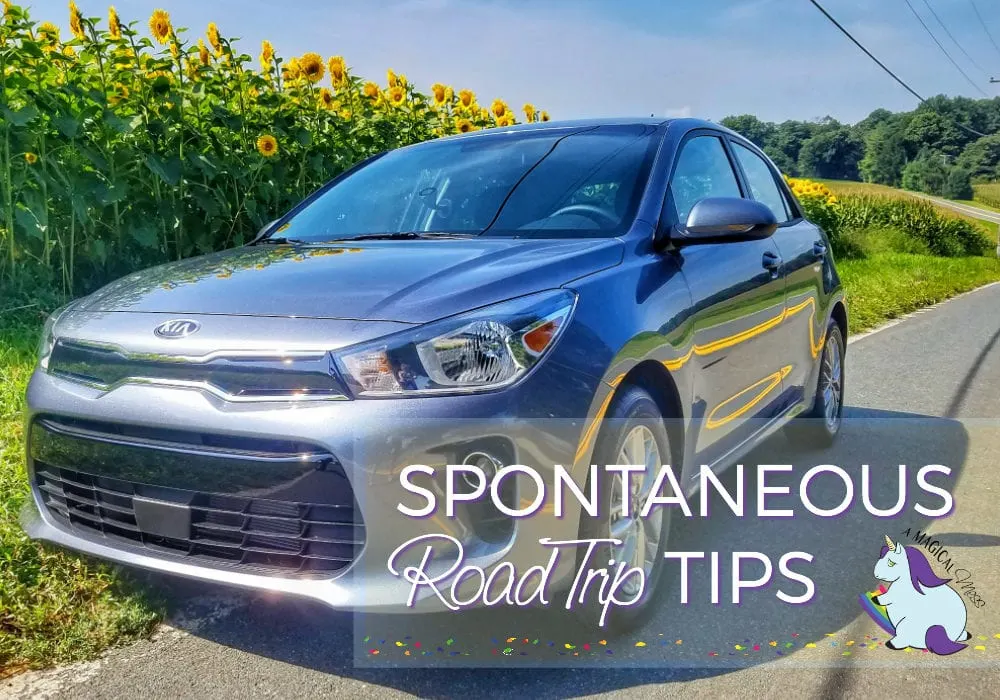 Spontaneous Road Trip Tips
Expect the unexpected… in a good way. When you trust your vehicle and your travel partner, embracing this mentality allows for the best experience. Adventure awaits. Let it unfold before you and keep an open mind.
Bring a magnetic phone mount. You're going to want to capture the fun on camera, and this also allows you to have an easy, hands-free view of your map if you're using your device for navigation. This is the one I use and I LOVE it!
Set a budget for tolls, gas, and food. Use an app on your phone to calculate how much you'll need. Using this toll calculator, you can even choose the cheapest route and save hundreds of dollars! More money for food, snacks, and souvenirs!
Speaking of snacks, hit a supermarket before you get on the road and stock up on your favorite snacks. They'll cost less and keep you fueled for the drive. Don't overdo it though. Leave some room for authentic road trip foods like what you might find at local fruit/farm stands along the way.
Put together a playlist with your fellow roadies. Music is everything. It sets the tone of your mood and can help keep you energized when sitting for long periods of time. Plus, you're going to want to record your epic car dance routines. Duh.
If you're traveling with children and have enough time to find a printer, print these road trip printables for a great way to keep tweens and teens looking out the window and using their imaginations.
Bring wipes and garbage bags. There's nothing worse than having sticky fingers while driving. Rather than have to pull off just to wash your hands, make sure you've got a stash of wet wipes to keep clean–especially while snacking.
Most importantly, if you start to get tired, let your riding partner know and pull over. Either switch drivers or take a nap!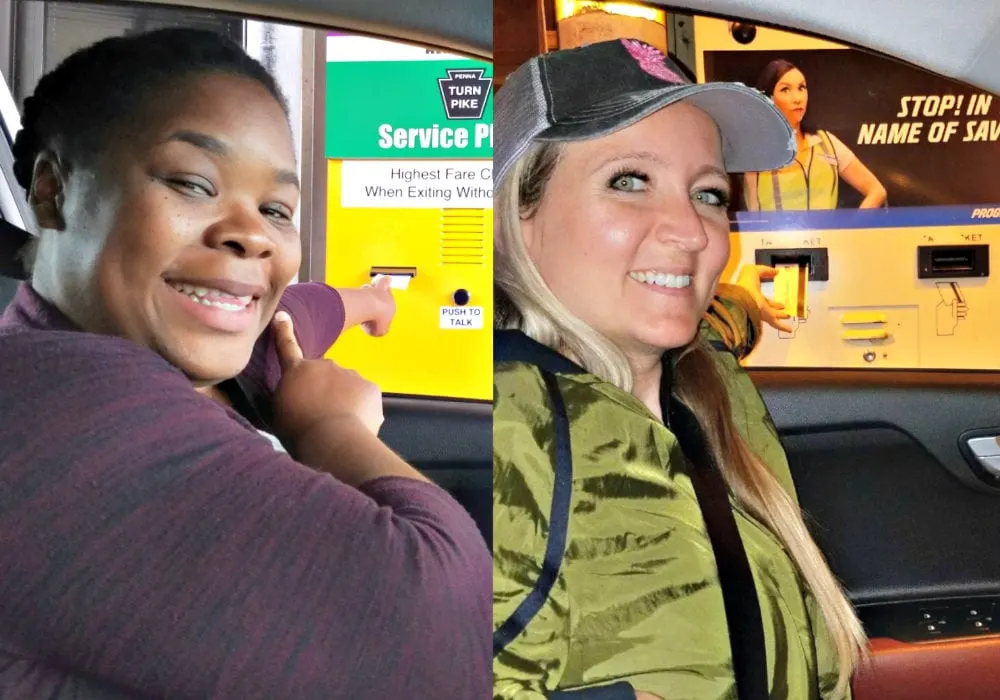 It's the little things. I've never seen anyone so excited to pay a toll. It became our thing–paying the tolls ended up being hilarious. The best was when the machine wouldn't take Natasha's card, and she started getting frustrated. Nothing is funnier than how Natasha copes with frustration–picture a super serious face, absolutely no swearing, and all her rage coming out as sarcastic random facts.
The Magical Adventure
We were live tweeting from the road and captured some of our silliness as we tackled the state of Pennsylvania–which seemingly goes on forever. Don't get me wrong, it's a beautiful state, but with a 55 mph speed limit and expansive distances with the same scenery, it's easy to lose your mind.
Driving across country with someone involves a lot of trust. As safe as the Kia Rio is, accidents can happen. Natasha is someone that I was completely comfortable with behind the wheel. Spending over 14 hours with her brought out our similarities and differences.
We laughed through it all, and I'm beyond honored to call her a friend. I cherish all our inside jokes and can't wait to embark on more adventures.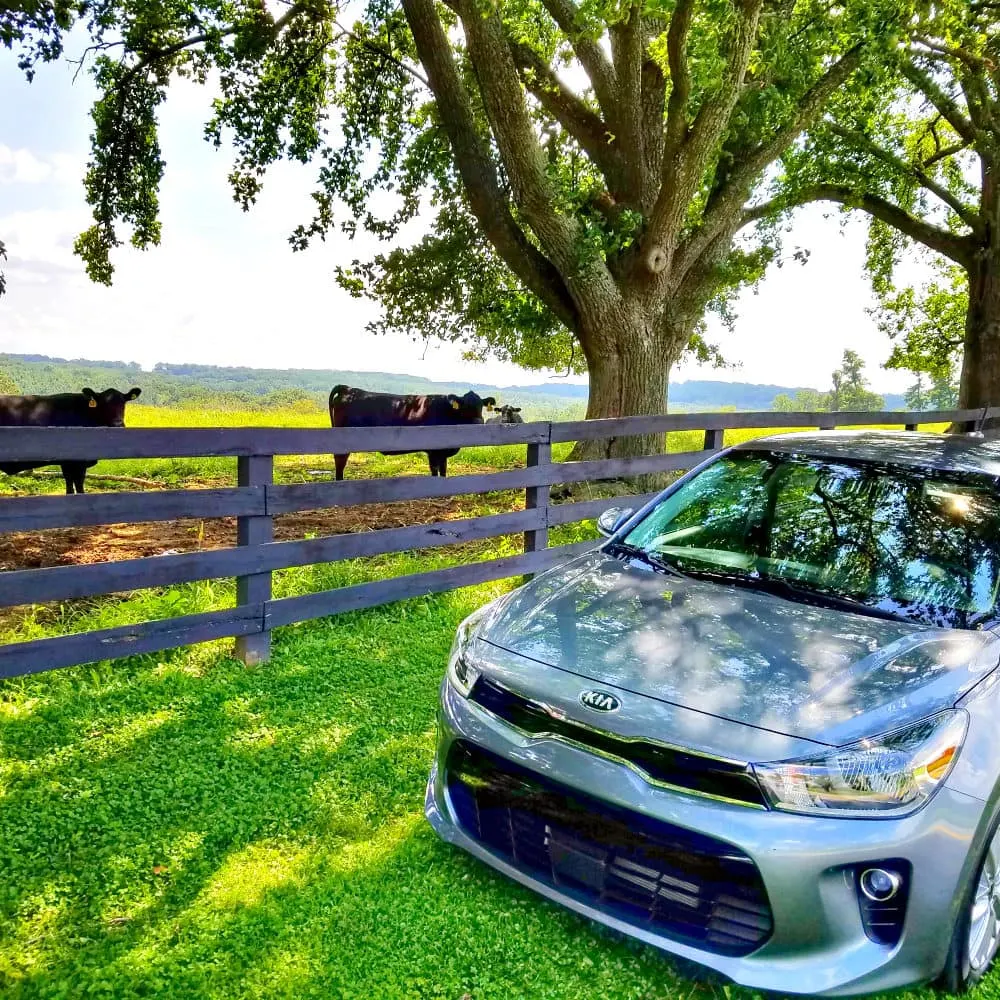 I'd like to encourage everyone to take road trips–planned, spontaneous, with family, with friends, even with somewhat of a stranger. The bonds formed behind the wheel are unlike any other.
Learn more about the adorable Kia Rio and why I think it's the #1 pick for best cars for teens.
Have you ever taken a spontaneous road trip? Tell us about it!
Up Next: Kas Reasoner and I will be jumping into the new Kia Soul and road tripping from LA to Vegas!