During my last semester in college earning my degree in nutrition science I had to develop an original recipe.
Because I love pistachios and all sweet things, I decided to create a pistachio brownie.
To make it more of a challenge, I made it gluten free and a healthy dessert recipe. It's a lima bean brownie!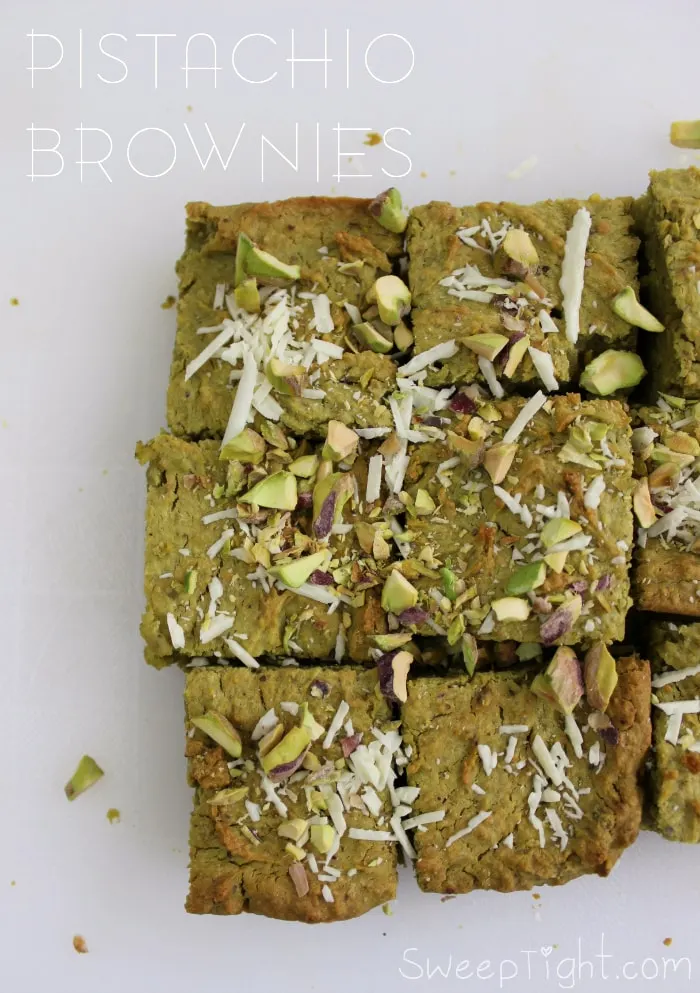 Healthy Dessert Recipe
You might think these ingredients are the last things in the world you'd want in a brownie, but trust me, the final results are quite satisfying.
It took me 15 weeks and over 40 attempts to get it right.
A huge thanks to all my classmates that had to taste test all the failures along the way!
But they all agreed by the end that this recipe turned out AMAZING.
The most difficult part was finding the right pistachio extract.
I went through almost a dozen before discovering this one. It's phenomenal.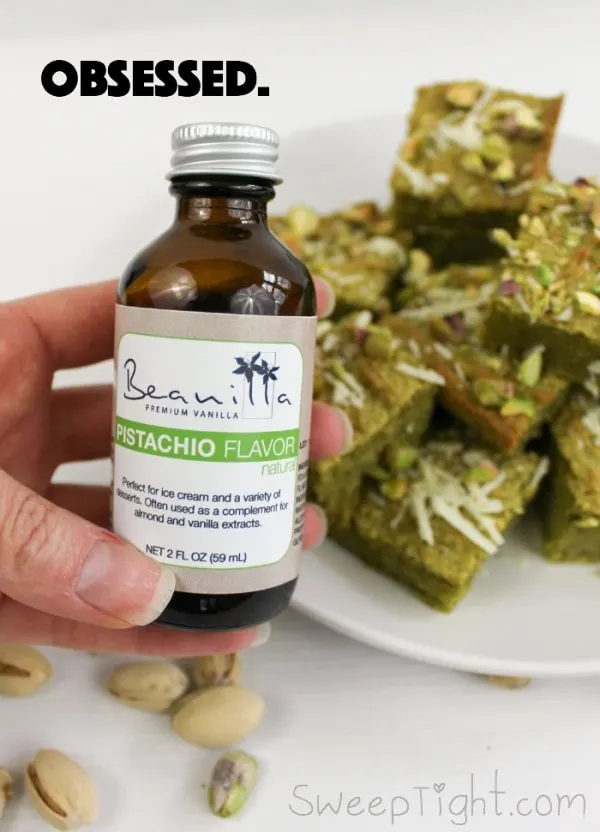 Using green lima beans and pistachio meal to replace the flour in this brownie recipe, I was able to eliminate the gluten and increase the nutrient density of this healthy dessert recipe.
It's high in fiber, has a good bit of protein, and is full of healthy fats.
If you're interested in all the dry, admittedly boring, science behind these delicious green treats, I'm happy to email you the 20 page paper I had to write on them. Just drop a comment below. 😉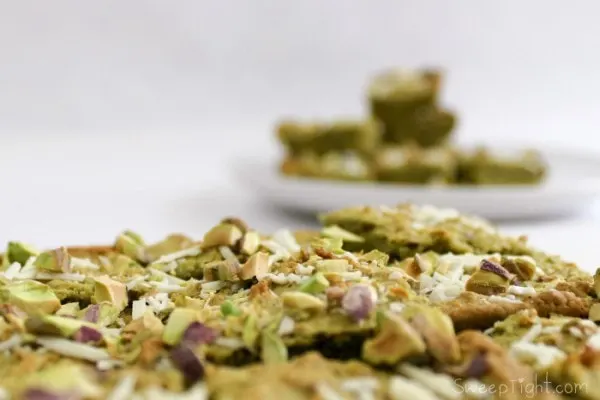 Gluten Free Pistachio Brownies
Here's what you'll need:
1 15.5 oz can green lima beans (baby butter beans also work), rinsed and well drained
1 large egg
2/3 cup pistachios (edible portion only, ground into a fine meal)
1/4 cup unsalted butter, softened
1/4 cup avocado
1/4 cup pistachio pudding mix (NOT sugar free)
1/6 cup sugar (odd measurement I know, just fill your 1/3 cup half way)
1/4 tsp baking powder
1/4 tsp salt
1 1/4 tsp pistachio flavor (MOST IMPORTANT INGREDIENT!)
1/2 tsp vanilla extract
1/2 square Baker's white chocolate
1/2 cup chopped pistachios
nonstick spray
Pans/bowls/utensils needed: conventional oven, strainer, can opener, cutting board, chopping knife, food processor, Blentec blender with 5 sided Wildside®Jar, 8″ square baking pan, dry ingredient measurers (1/3 cup, 1/4 cup, 1 tbsp, 1 tsp, 1/2 tsp, 1/4 tsp), rubber spatula
Instructions: (see video above)
Preheat oven to 350°F.
Spray 8×8 pan with nonstick spray.
Open can of beans. Rinse and strain.
Put beans in Blendtec Blender and process until smooth.
Add egg to blender.
Put approximately 3/4 cup shelled pistachios in food processor and grind to make 2/3 cup fine meal.

Check out these other recipes that use pistachio meal: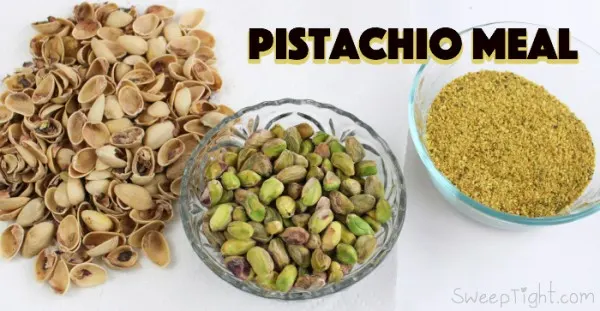 Add remaining ingredients to blender and blend until evenly combined.
Pour into greased pan using spatula to scrape sides of blender.
Bake at 350°F for 25-35 minutes or until toothpick inserted comes out clean.
Let cool in pan for 10 minutes.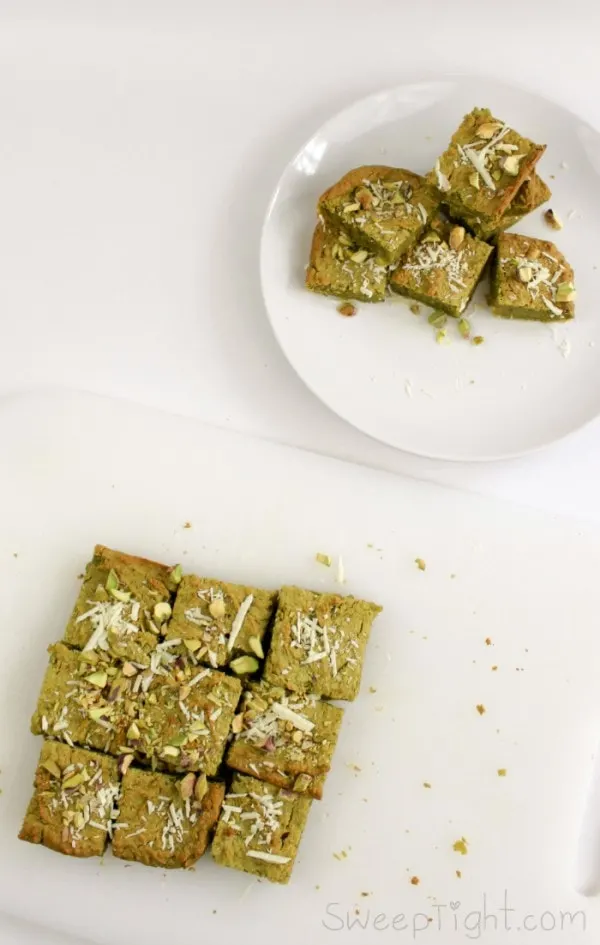 Cut 4 even columns and 5 even rows to create 20 servings.
Chop pistachios and white chocolate to desired size and sprinkle over sliced brownies as a garnish.
Serve when fully cooled to room temperature for best flavor.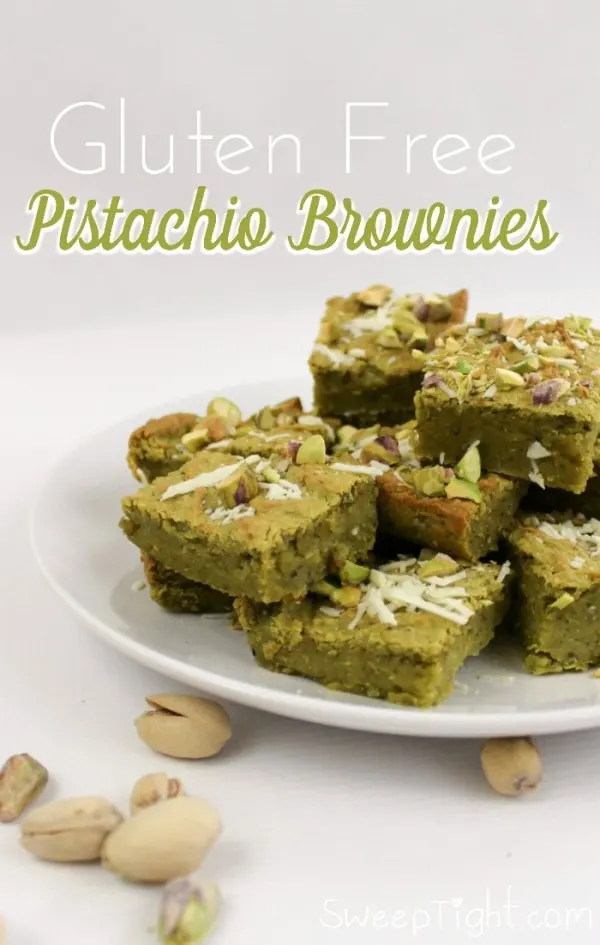 More St. Patrick's Day Treats
Do you have a favorite healthy dessert recipe?